Lifting Lives Through Literacy for Sixty Years
The Literacy Council of Frederick County, Maryland (LCFC) celebrates its 60th anniversary in 2023! Since its founding in October 1963, its volunteer tutors have instructed some 9,250 Frederick County residents in reading, speaking English, and everyday life skills. Their contribution has had a profound impact on Frederick County. A new vision, Literacy Lifts Lives, guides the organization's dynamic new mission statement: To provide Frederick County adults with pathways to essential literacy skills, recognizing that success for the adults and families we seek to serve rests on a collective community approach.
Upcoming Events:
60th Anniversary Ribbon Cutting: September 8, International Literacy Day
In the Streets: Literacy scavenger hunt, September 9, with Surelocked In Escape Games
Volunteer Appreciation Picnic: October 1
Celebration of Achievements: November 2
The following is an abbreviated history of the organization:
1959 – Church Women United Begin Migrant Ministry Project
Church Women United members began a migrant ministry project to help seasonal workers who came to wor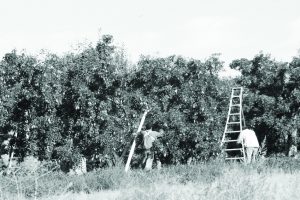 k in Frederick County each year. They soon discovered that many of the workers could not read and decided to add literacy to the project. In the fall of 1962, Kay Mackley was granted a scholarship to go to the Koinonia Foundation near Baltimore for two weeks of training in the Laubach Literacy method of teaching reading. Dr. Frank C. Laubach, who had developed the method in the Philippines in 1930, was the president of the foundation.
1963 – Frederick County Laubach Literacy Formed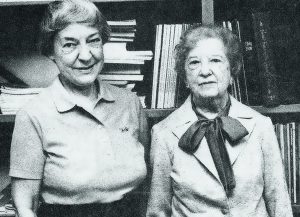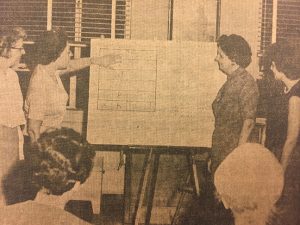 In October, a representative from Koinonia came to Frederick to train 19 volunteer tutors, and Frederick County Laubach Literacy, later renamed Literacy Council of Frederick County, was officially established. Its founding mothers were Kay Mackley and Dolly Engle.  Dolly Crum served as the first president. It was the second Literacy Council in Maryland, following by months Montgomery County's (now known as the Literacy Council of Montgomery County). By the time the first tutors were trained, the migrant workers had moved on for the year, but many of the women volunteers found local residents who needed their help.
The Literacy Council soon discovered that there were thousands of adults with low literacy skills in Frederick County. Program efforts accelerated, and over the next 20 years, from 1963 to 1982, the Council held 51 tutor training workshops, certified 627 tutors, and tutored 984 people.
1964 – C. Burr Artz Public Library Hosted Literacy Council's Tutoring Program for Migrant Workers
By the time the migrant workers returned in the summer of 1964, the Literacy Council had arranged for use of the Children's Room of the C. Burr Artz Public Library (then on Record Street) for tutoring several evenings per week, because conditions in the migrant camps were not conducive to learning. The fledgling organization operated out of people's homes, including the East Second Street basement of Dolly and Melvin Engle.
1974 – Literacy Council Operated at Evangelical Lutheran Church
In October, arrangements were made for the Literacy Council to share the Sunday School Library of the Evangelical Lutheran Church, located in the Schaeffer Center on East Second Street.  This, the Literacy Council's first home, was dubbed "The Reading Center."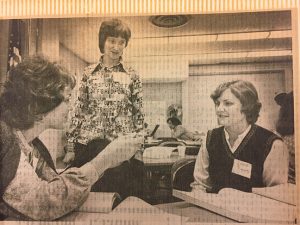 The organization was hampered by having no local tutor trainers, relying on Martha Lane, standing at right, from Lutheran Church Women in Philadelphia to conduct numerous workshops here, until Betty Seligmann was certified as a trainer in 1974.
1977 – English as a Second Language Program Established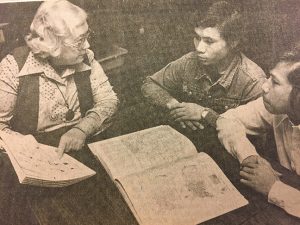 The English as a Second Language (ESL) program was established to help the many incoming Southeast Asian immigrants. Marie Miesse, at left, was the first coordinator for this program. Until this time, Basic Literacy Students (native English speakers) were the primary clients.
1982 – Literacy Council Moved to Current Offices at C. Burr Artz Public Library on Patrick Street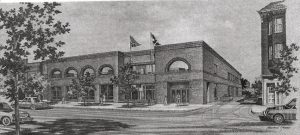 As awareness for the issue of literacy continued to grow throughout the nation, it became common for community literacy programs to be housed in local libraries. Co-founder Kay Mackley was determined that the Literacy Council would be located in the new library to be built on E. Patrick Street. Local library leadership told the Literacy Council it could have a second-floor office for $25,000. Ruth Baird, a writer, helped launch the fundraising campaign with articles she placed in The Frederick News Post.  The Literacy Council moved to the new C. Burr Artz Public Library where it has remained ever since.
1982 – Tutoring Program for Detention Center Inmates Established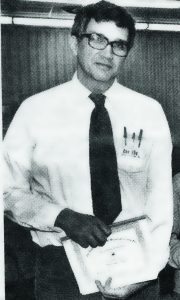 In July 1982, Norman Paul, an engineer retired from Johns Hopkins, became a certified tutor, beginning "a second career" that would span 20 years. His efforts began at the old South Street Jail where he tutored students four days a week, later moving to the Frederick County Detention Center when it opened in 1984. When two of his students transferred to Roxbury Correctional Institution (RCI) in Hagerstown in 1984 and wanted to continue their lessons, Norm dedicated another two days per week to tutoring there. Norm began spending more of his time at RCI, where he continued individual tutoring and also began classes in math, English, ABE, GED, and college prep.
In 1990 he launched a project in which inmates who had achieved literacy tutored other inmates. In 2001 alone, 68 students were tutored. Twenty attained their GEDs and five received 8th grade diplomas. In the course of 20 years, Norm brought literacy to at least 400 people.  He continued tutoring the incarcerated until 2002, shortly before his death.
1983 – Literacy Council Hosted Laubach Literacy Action Northeast Regional Conference
By its 20th year, the Literacy Council of Frederick County had attained a regional reputation. In June 1983, LCFC hosted the Laubach Literacy Action Northeast Regional Conference at Hood College. Dr. Robert Laubach was in attendance. Later that year at the 20th anniversary meeting, founders Kay Mackley and Dolly Engle were honored.
1984/85 – Literacy Outreach Program Launched for Western Maryland Counties

In 1984, following 20 years of service, Dolly Engle retired as LCFC Treasurer. She was succeeded by former board president Melvin Bennett who held the position until 1998.  Sadly, Dolly and her husband Melvin Engle died in December and November 1984. Many memorial donations were made to the Literacy Council. Dolly had always had a special interest in the westernmost counties of Maryland, which were without literacy programs.
The Literacy Council established the Engle Memorial Fund, using most of the donations to fund an outreach effort primarily in Washington, Allegany, and Garrett Counties. In May 1985, a letter titled Literacy Exchange was mailed to 600 churches, organizations, Chambers of Commerce, and individuals, offering LCFC assistance. The fund was mostly depleted by the initial mailing, but Dolly's family members, Mrs. Ruth Cline Harp, Mrs. Ernest Webb, and her daughter Mrs. Dorothy Webb Halpin continued to donate to the fund very generously.  This allowed LCFC to support the formation of new councils.
As a result, Garrett and Washington Counties each formed Literacy Councils with LCFC support, and tutor training workshops were conducted in Allegany County. Over 100 tutors were trained by LCFC trainers in the three counties until volunteer trainers were mentored and certified there. In later years LCFC volunteers also trained tutors in Carroll County, Loudoun County, and two Pennsylvania counties.  The strong relationship with the Literacy Council of Washington County to jointly train new tutors is ongoing. In 1990 the Literacy Exchange worked with Debby High at Hood College to produce Simply Good, a cookbook for low-level readers.
1985 – New Readers Express Student Support Group Formed
In about 1985, a student support group calling itself New Readers Express was formed. It continued for some 15 years, facilitated by tutor/student coordinator Betty Seligmann. In addition to their monthly meetings, the group often held fundraisers to help finance their attendance at national conferences.
1987/88 – Betty Seligmann, Literacy Council Received Award Recognitions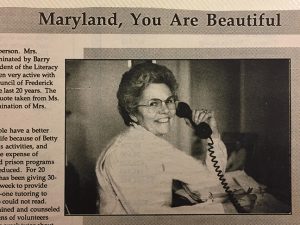 In December, volunteer Betty Seligmann was selected as the first Frederick County "Maryland, You Are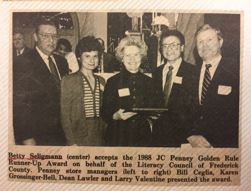 Beautiful" individual for her 20 years of volunteer service to LCFC. In April 1988, LCFC was 1st runner up for the JC Penney "Golden Rule Award," a recognition of exceptional service. In May 1988, LCFC was a "Best in Maryland" finalist for community contributions, an award sponsored by the Public Relations Society of America.
Early 1990's – Maryland Correctional Institution-Hagerstown Requested  Training for Inmates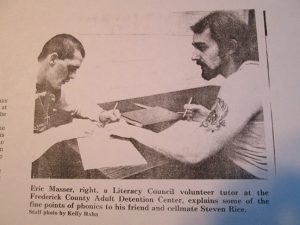 The Literacy Council received a request from Victor Wachs, a case worker at Maryland Correctional Institution-Hagerstown, to train inmates to tutor other inmates. The prison had a school program, but there was a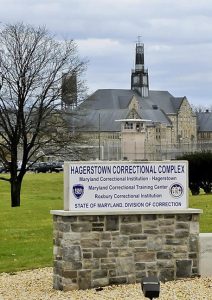 long waiting list to get into those classes, and they weren't geared to teach those at very beginning reading levels. Victor wanted to get the very low-literate inmates started and ready for the school classes, so he recruited literate inmates and arranged for the training workshops. LCFC also donated books to this program using funds from the Engle Memorial Fund. Tutor trainers continued training new inmate participants through 2012.
1991 – Marguerite Naseau Literacy Center at Provincial House, Emmitsburg Established
Sister Mary Jerome McGinley of the Provincial House in Emmitsburg was certified as a tutor. She went on to establish the Marguerite Naseau Literacy Center at Provincial House, a satellite location of LCFC until it closed in 2002.
1992 – Literacy Council Received National Recognition for Efforts to Increase Literacy
The Literacy Council was recognized nationally for its efforts to increase literacy west of Frederick County. It was one of three organizations selected nationwide in the Outstanding Special Initiative Award Category of the 1992 Laubach Literacy Action National Awards for Excellence. The Governor proclaimed May 18, 1993, as Literacy Council of Frederick County Day in Maryland.
1994 – "Dr. Bob" Laubach Guest Speaker at Annual Meeting
On May 10, "Dr. Bob" Laubach was the speaker for the annual meeting. It was reported that 239 Basic Literacy students were taught by 100 tutors and 49 ESL students were taught by 39 tutors.
1997 – Basic Literacy and ESL Programs Continue

225 Basic Literacy students (including 78 prisoners and 31 at the Marguerite Naseau Center) were taught by 89 tutors.  48 ESL students were taught by 41 tutors.
1998 – Internationally Known Literacy Advocate John Corcoran Addressed Annual Meeting
On May 18, the speaker for the annual meeting was John Corcoran, an internationally known literacy advocate who sought help for his own illiteracy at the age of 48. He is the author of The Teacher Who Couldn't Read.
2000 – Elizabeth H. Seligmann  Award Established
In 2000, LCFC established the Elizabeth H. Seligmann Award to be given to individuals showing outstanding and long-term achievement and dedication to literacy efforts. In 2001 Norman Paul was the first recipient.  Subsequent awardees were:
Caroline Gaver (2004), Joyce Routzahn (2006), Alice Brouillet (2010), Elizabeth Derr (2011), Kate Bufter (2013), Freida Pryor (2014), Denise Dertzbaugh (2016), Marianne Dacey (2018), Elizabeth Brady (2019), and Doris Vierbuchen (2021), all recognized for their long-term service to the organization and the community.
2002 – Return to C. Burr Artz Public Library, Established Betty Seligmann Literacy Endowment Fund
Following a two-year relocation to a Sunday school room at First Baptist Church on Dill Avenue, LCFC moved into new offices at the renovated C. Burr Artz Public Library in March.
In June, the Council established the Betty Seligmann Literacy Endowment Fund, in memory of Betty, at the Community Foundation for the purpose of supporting the operations of the Council.
2006/2010 – ESL Program Surpassed Basic Literacy Program
In 2006, there were 99 tutors who worked with 35 Basic Literacy and 90 ESL students. In 2009, 86 tutors worked with 18 Basic Literacy and 105 ESL students. In 2010, 86 tutors worked with 24 Basic Literacy and 125 ESL students.
2011 – 1st Staff Member hired, Ausherman Foundation Grant Led to Strategic Plan
Except for two very short periods when LCFC hired office help for a few hours a week, the Literacy Council was an all-volunteer organization for 48 years until Diana Halleman was hired in March as the 30-hour per week Office Manager/Volunteer Coordinator, allowing the office to be open on a regular basis.
An Ausherman Family Foundation grant allowed LCFC to engage a consultant to conduct an organizational assessment and help formulate the first Five Year Strategic Plan, completed in May 2012. Goals included expanding the organization to serve more students and hiring an Executive Director by 2017.
2012 – Caroline Gaver Received Wertheimer Fellow for Excellence in Volunteerism Award
In November, Caroline Gaver was the recipient of the Wertheimer Fellow for Excellence in Volunteerism Award, given by the Community Foundation of Frederick County. The $10,000 award was designated for the Betty Seligmann Literacy Endowment Fund.
2013 – AFF Grant Established Marketing, Awareness and Fundraising Plan, 50th Anniversary
A new Ausherman Family Foundation grant enabled LCFC to engage a marketing and fundraising consultant to help establish the Literacy Council's first marketing, awareness, and fundraising campaign. An additional grant from the Randall Charitable Trust paid for the production of the new marketing materials, targeted to reach more than 100,000 Frederick County residents.
On October 23, the Literacy Council celebrated its 50th anniversary with an event at the Weinberg Center for the Arts featuring a special presentation by nationally known political and social commentator, NY Times columnist David Brooks. The goal of this event was to raise public awareness of the issue of illiteracy, and helped to re-launch the organization with more volunteers, partnerships, and resources in the 50 years to come.
2014 – Partnership with AACF for Classes, 1st Celebration of Achievements, 1st Executive Director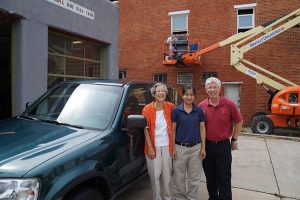 LCFC began a collaboration with the Asian American Center of Frederick to provide English classes at their location.  The photo at left shows the LCFC instructor, Sandy Doggett, who taught those classes, along with one of her students who was receiving a car through a partnership with Second Chances Garage.
The first Celebration of Achievements, honoring the accomplishments and work of our students and tutors was held at the Delaplaine Arts Center.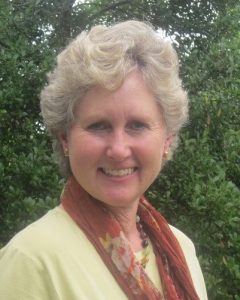 Also in 2014, LCFC attained its goal, three years early, when it hired its first Executive Director, Laurie Fisher. Under her direction, programs have grown, and the staff capacity has continued to expand, as a result of intensified efforts with volunteer grant writers to expand grant revenue, and contributions from individual donors and business sponsors.
2015 – New Workplace Program, Governor's Lifetime Achievement Award, Giving Societies Established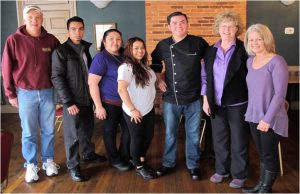 The new Workplace Literacy Program began classes at Brewer's Alley for kitchen workers followed by a class for employees of Magic Foot Spa, both taught by volunteers. A second restaurant class was conducted in 2016 at Ayse Meze Lounge.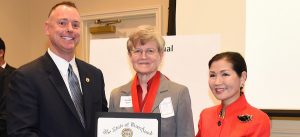 Also in 2015, Caroline Gaver received the Governor's Lifetime Achievement Award in Annapolis for 40 years of service to LCFC.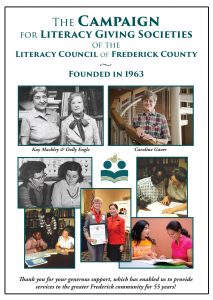 The Campaign for Literacy Giving Societies was announced to recognize individuals, organizations and businesses whose contributions provide critical financial support for the Literacy Council's programs.
2016 – 1st Scrabble Mania for Literacy Fundraising Event
The first Scrabble Mania for Literacy (and Silent Auction) fundraising event was held at the Delaplaine Arts Center.
2017 – Community Classes Provide More Pathways to Learning, New Website Launched
Weekly classes expanded to offer adult learners additional pathways to learning, and to reach more students.  A new website was launched, designed by Postern, funded by a grant from the Ausherman Family Foundation.
2018 – New Strategic Plan, Parent Tutoring, New Staff, Reflections Literary Magazine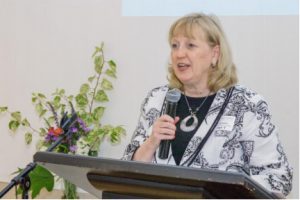 The Board and a facilitator developed the next three year strategic plan.  Frederick County Executive Jan Gardner proclaimed June 11, 2018 "Literacy Council of Frederick County Day" at its annual Celebration of Achievements event to thank the Literacy Council for 55 years of service to Frederick County.
LCFC was awarded a three-year United Way Community Partnership Grant to begin the Parent Literacy Program at the Judy Center and three Frederick County Public Schools elementary schools.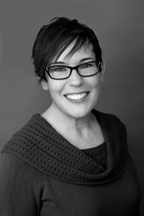 A full-time Program Manager position was developed, and Jennifer Szabo hired. A part-time Workplace Literacy Coordinator position was added, with Kim Brown hired to take on these responsibilities.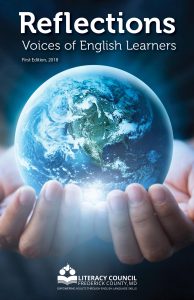 The publication of the first edition of Reflections – Voices of English Language Learners featuring stories written by LCFC students was celebrated at an event held at the Curious Iguana bookstore.
Also in that year, LCFC held its first donor reception to honor the founding members of The Campaign for Literacy Giving Societies.
2019 – Literacy Council Named "One of the Best" Local Nonprofits, Workplace Program Reaches Hospitality Associates and Manufacturing Employees
LCFC was named "One of the Best" nonprofits by the Catalogue for Philanthropy a designation that continues to the present time.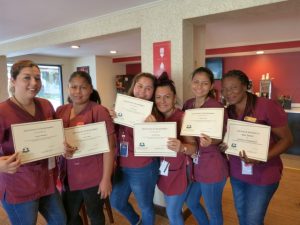 New workplace English classes for hospitality workers at local hotels began.  Due to the time commitment and expertise necessary to teach these classes, for the first time LCFC employed contract instructors. The Workplace Literacy Program has continued to grow.  Classes have been taught at Econo Lodge and six additional hotels owned by Plamondon Hospitality Partners, as well as a drop-in class for workers at several Frederick restaurants.
Also in 2019, the Parent Literacy Program began classes and tutoring for parents of young children at three Title I schools in collaboration with Frederick County Public Schools and The Judy Center.
2020 – COVID-19 Impacted Operations, Remote Teaching and Learning Overcame Barriers, Ambassador of the Year Award
On March 16 all County buildings and the Literacy Council closed for multiple months due to the COVID-19 pandemic, with staff working remotely, and eventually rotating days in the office.  Operations continued, thanks to the use of technological innovations.  All student intake and assessment appointments were transitioned to individual appointments conducted on Zoom. By April, tutoring and classes had resumed using remote platforms.  By October, tutor training had been restructured and tutors were being trained on Zoom.  Although many activities are again in person, this forced transition enabled LCFC to learn new methods of service delivery that will be continued because they remove barriers such as transportation, childcare, and time that can limit access to services. Many students who were isolated with their families, were able to stay connected through online classes conducted by Literacy Council volunteers.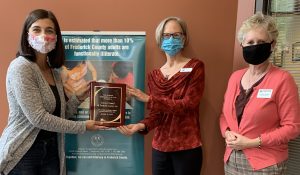 Also in 2020, the Literacy Council received the Visit Frederick Ambassador of the Year Award from the Tourism Council of Frederick County for teaching workplace English to hotel housekeeping staff.
In November, the Literacy Council organized a virtual Celebration of Achievements event to recognize its adult learners and their accomplishments.
2021 – Workplace Program Impacts New Sector, Program Coordinator Hired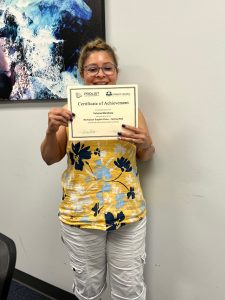 ProList, Inc. hosted Literacy Council workplace classes beginning in 2019.  Part-time Program Coordinator, Victoria dos Santos was hired, joined by Nancy Gibbons in 2022 in a shared position. The Community Class Program continued to expand to provide multi-level weekly classes during fall, winter, spring and summer sessions.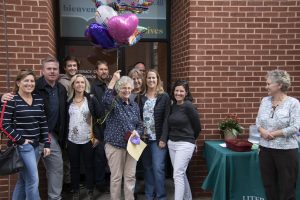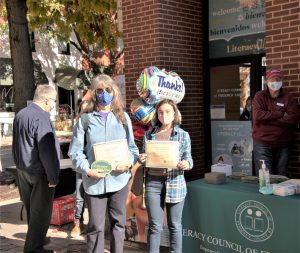 In November, still in the midst of COVID restrictions, a curbside Funnel Cake Volunteer Appreciation thank you event was held to thank LCFC volunteers for their services.  In addition to freshly cooked hot funnel cakes, volunteers were greeted and thanked by board members and received special appreciation items and certificates. Doris Vierbuchen was awarded the Elizabeth H. Seligmann Award at the Literacy Council's entrance, in a surprise presentation witnessed by her family, staff and Board Members.
2022 – New Strategic Plan, Board Invested in Staff Capacity, Programs Experienced Continued Growth
The Board of Directors and Staff developed a new strategic plan to lead the Literacy Council's work for the next three years.  Our new vision, Literacy Lifts Lives, will guide the organization's dynamic mission statement: To provide Frederick County adults with pathways to essential literacy skills, recognizing that success for the adults and families we seek to serve rests on a collective community approach.
Acting on one of the operational imperatives identified in the plan, the board approved expanding staff capacity by creating two new part-time positions with Maggie Clingman becoming the Development Coordinator and Rachel Heuver becoming the Office Assistant.  Sarah Fowkes joined the staff team as the new Program Manager.
The Literacy Council entered into a new MOU with Visit Frederick – Tourism Council of Frederick County that includes Destination Development funding to provide workplace English classes for the hospitality sector.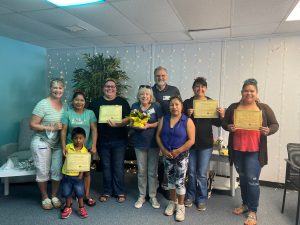 The Parent Literacy Program, in cooperation with the Judy Center and Frederick County Public Schools, expanded to serve parents at five Title I schools.  Monocacy and Butterfly Ridge Elementary Schools were added to the program that was already operating at Waverley, Hillcrest, and Lincoln Elementary Schools. This program is led by Parent Literacy Program volunteer coordinator (and volunteer ESL Coordinator) Holly Bohman and provides parent conversation classes and individual tutoring throughout the academic year.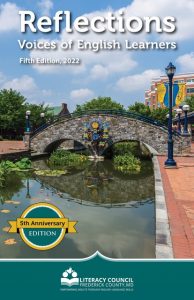 The Fifth Edition of Reflections – Voices of English Learners was published!
This past year the Literacy Council served 323 adult learners, more than 90% of them ESL students.
2023 – 60 Years of Providing Adult Literacy Programs in Frederick County!!
2023 begins a year of celebrating LCFC's 6oth anniversary – 60 years of providing adult literacy programs in Frederick County, serving over 9,250 adults and their families – and implementing our new strategic plan to expand our reach in the next 60 years.
Bimbo Bakeries USA (Thomas English Muffins) begins classes in January 2023, the latest business to join the Workplace Literacy Program. The Community Class Program is expanding to new satellite locations, including the Walkersville Library Branch and the YMCA's Art Center.
For additional historical information, check out this at-a-glance timeline!