Volunteer Spotlight: Meet Marianne Dacey
As a lifelong educator starting at the elementary school level working up  to
adult education, the experience with the Literacy Council has always renewed my spirit.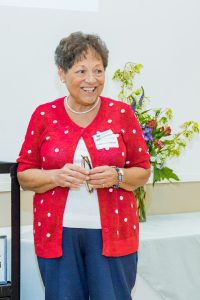 This month's Volunteer Spotlight features Marianne Dacey.  Marianne began volunteering with the Literacy Council in 2003, when she completed tutor training.  Over the years, Marianne has worked with multiple Literacy Council students, encouraging them toward their goals, always with a kind and welcoming attitude. In addition to tutoring, she almost immediately became a member of the tutor training team, beginning in 2004, and continues in that role today.  She has been an invaluable resource by sharing her extensive knowledge from her years as a reading specialist and an adult ESL instructor.  Marianne contributed extensively over the past year as the team worked hard to transition the workshop format online so that tutor training could continue during the pandemic.
In 2018, Marianne designed and instructed a new Civics class for our students that she continues to conduct each year. Pre-pandemic, during this 10-week class, students began and ended each session in the Literacy Council's classroom, but in the middle of each class period they went on field trips.  Marianne described the classes: We had opportunities to learn and visit various locations here and throughout the Frederick community so that the students could apply their learning, use their English language skills, and actually see our community services, government and all kinds of artistic opportunities in action. Students have enjoyed asking questions, learning more information and also sharing their experiences in their own countries.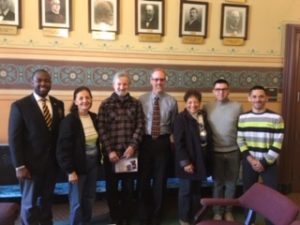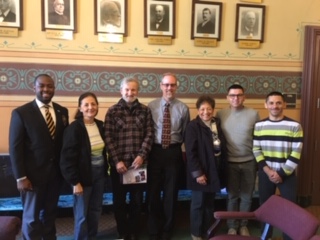 When the class met in person, field trips included: Carroll Creek Linear Park's Community Bridge; C.Burr Artz Public Library with a special tour of the Maryland Room; The Statue of John Hanson; City Hall, with a special visit by Mayor Michael O'Connor; The Visitor Center; Backstage tour of the Weinberg Center for the Arts; and  the National Museum of Civil War Medicine.  The class also had "walk-by" stops to locate significant sights that reflect local history, social service efforts, and past industry: The Barbara Fritchie House; The "Old" Frederick City Railroad Station – site where Abe Lincoln stopped during the Civil War and current home of the Community Action Agency with the Food Bank and Soup Kitchen; and Mt. Olivet Cemetery where Francis Scott Key is buried.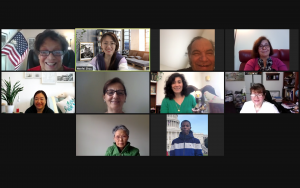 Marianne's Civics class met during the fall and winter sessions, using Zoom to meet online during the pandemic closures. Instead of field trips, guest speakers were invited to join the class each week, representing (among others) Frederick County Public Libraries, Frederick County Detention Center, Salvation Army, Asian American Center of Frederick, and L'Arche.  County Council Member Phil Dacey spoke about how bills can become law in county government, and County Council Member Jessica Fitzwater spoke about the new Commission on Immigrant Affairs.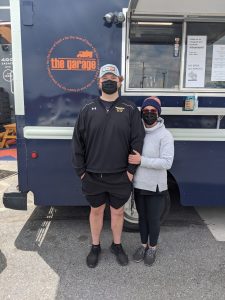 One guest speaker, Rita Dorsey, spoke about being a hair stylist for 29 years.  After the pandemic, she decided to pursue her love for cooking. Rita gave a great description of the necessary steps to acquire and set up her Food Truck.  Her business is off to a good start and she is looking forward to even more summer business.  The class also devoted time to the special days in February and March, discussing the Lunar New Year, again bringing contributions from the students. They focused on (elements) of slavery in the U.S. and Black History Month, along with Women's history month.
Marianne shared: This experience [with the Civics classes] has been one of the most rewarding education instructional experiences of my entire career. My students just amaze me with their interest in learning and refining their English language skills as well as learning so much more about their community. They show a dedicated interest to find out what's  happening with our local government services and how the community reaches out to one another.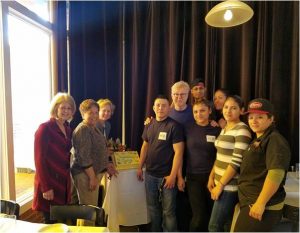 Marianne also partnered with tutor, Denise Dertzbaugh, to design and instruct the Literacy Council's Restaurant English classes which were taught to kitchen workers at several downtown Frederick restaurants and Dutch's Daughter Restaurant.  Denise, who had taught the class for two years, shared the following about Marianne: "Marianne gave me new energy needed to conduct this class.  We spent as many as 9+ hours a week re-writing the curriculum to make it fit our students, and teaching the classes.  She did all the recording of our notes and writings on the computer and had them ready to go for the next class.  She contributed fresh ideas, was flexible (every teacher needs to be flexible!) and was a delight to co-teach with."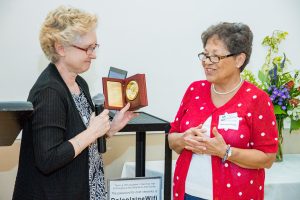 In June 2018, Marianne received the Literacy Council's Elizabeth H. Seligmann Award, which was established in 2002 in honor of Betty Seligmann, to be awarded to volunteers who demonstrate a similar exceptional dedication to literacy that Betty fulfilled for 33 years.  It is to be awarded for sustained and significant contributions furthering the goals and objectives of the Literacy Council, consisting of outreach to others and reflecting distinctive qualities.  Marianne's hard work and dedication to the work of the Council for so many years more than fulfill both the criteria and spirit of this award.
Last year, more than 150 passionate and dedicated volunteers like Marianne volunteered over 12,800 hours supporting the tutoring, class, parent and workplace literacy programs. The Literacy Council is always seeking volunteers. Learn more by registering for a 60-minute Volunteer Information Session offered every month, followed by a Tutor Training Workshop.  All sessions and workshops are currently conducted online.