We teach adults the reading and other English language skills they need to provide for their families and contribute to the well-being and prosperity of our community.
Because our services are free for our adult learners, the Literacy Council relies heavily on financial contributions to achieve its mission. Your donation will help Frederick County residents gain the reading and English language skills they need to find jobs or to better their employment status, assist with their children's education, get a driver's license, obtain citizenship, read prescription labels, improve consumer skills and health outcomes, and generally become more confident, involved members of our community.
Give Any Amount
The Literacy Council of Frederick County appreciates any donation level. You may wish to:
Make a donation in a special person's name.
Give a memorial contribution to honor and remember someone.
Make a general donation for the Literacy Council to apply to any need.
Designate a specific purpose for the use of your gift.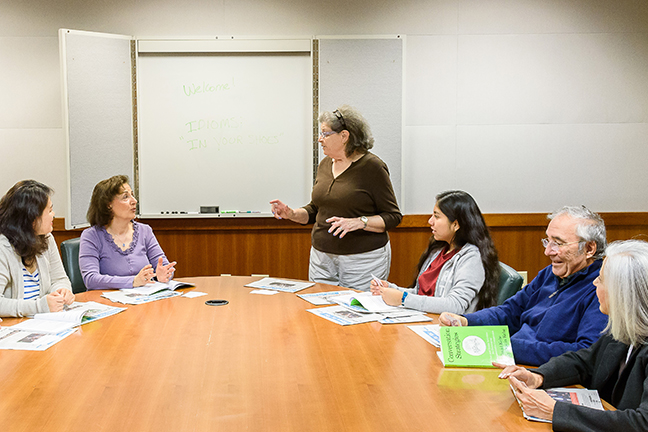 How Your Gift Matters
Here are just a few examples of how your donation can make an impact.
$1,000
Supports the development of workplace literacy programs.
$750
Keeps our offices open for one week, providing a place to tutor 50 learners.
$500
Helps to train a cadre of 20 new volunteer tutors.
$115
Keeps our office open and accessible to students and tutors for one day.
$50
Provides the first level of books for one student and tutor.
$30
Covers the cost of workbooks for one student for one curricular level.
Click here or on the button below. We accept major credit cards including American Express, MasterCard, Visa, and Discover, as well as recurring donations. Your donation will be securely processed and a status page will be displayed. You will receive a confirmation email.
Print and complete this donation form and include it with your check made payable to the Literacy Council of Frederick County. Mail to: The Literacy Council of Frederick County, 110 E. Patrick St., Frederick, MD 21701.
Please call our office, (301) 600-2066.
We participate in employee giving programs through the Frederick County Government, Frederick City Government, and Frederick County Public Schools. Also, ask if your employer will match your donation, which is a great way to increase the value of your gift.
Make a charitable contribution that leaves a legacy and puts your assets to work via tax-efficient charitable strategies. Find out more.
Join our Campaign for Literacy Giving Societies based on your cumulative giving as a business, individual or foundation. Find out more.
LCFC is a participant in the Amazon Services LLC Associates Program, an affiliate advertising program that provides a means for organizations to earn fees by advertising and linking to Amazon.com. Whenever you connect to Amazon.com using this link, or by clicking on the Amazon logo, LCFC will receive a percentage of the sale. Any item placed in your shopping cart through this link and purchased during a 24-hour window will earn money for LCFC!
In the course of its regular fundraising activities, the Literacy Council will accept donations of money, real property, personal property, stock, and in-kind services in accordance with our Gift Acceptance Policies.
The Literacy Council of Frederick County, Inc. is a 501(c)(3) nonprofit organization, donations to which are tax deductible to the fullest extent allowed by law.