Our Workplace Literacy Program provides the training and basic skills necessary for employees to maintain their careers or achieve promotions, make current jobs easier, and their work more productive. The Literacy Council offers customized classes at the work site.  We look forward to expanding these programs into other local businesses and industries. Would you like to partner with us in your place of business? Please let us know! We also have tutors who can help individual employees.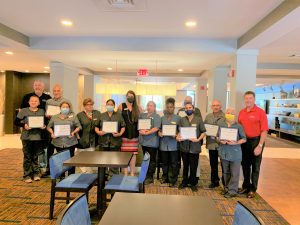 English for Hospitality Associates
The Literacy Council has expanded its Workplace Literacy Program in collaboration with employers in Frederick County from the hospitality and tourism industry to provide English language classes for their employees. The purpose of the program is to empower limited English language proficient employees to find and keep sustainable employment, contributing to achieving greater financial stability and impacting the lives of their families. The program will also help employers identify and retain an educated workforce and reduce turnover, thereby strengthening the entire economic fabric of the community. The instructional content focuses on English speaking and comprehension, with an emphasis on workplace vocabulary, workplace skills, interaction among staff, and overall basic conversation skills.
English for Manufacturing Employees
Workplace English classes are also being conducted for employees in manufacturing businesses.  ProList, Inc., which is a direct mail and marketing business, collaborates with the Literacy Council to offer classes at the workplace for employees in the assembly part of the business.
Bimbo Bakeries, USA, worked closely with the Literacy Council's Workplace Literacy Program team to identify employees who will attend weekly classes taught at different levels.
English for Restaurant Employees
In recent years some of our instructors have conducted classes for kitchen workers at local restaurants. The curriculum has been tailored specifically for the needs of the workers and the businesses, and the workers are "on the clock" for the lessons. Among other benefits, restaurant managers have noticed that kitchen workers and the English-speaking front-of-the-house staff soon begin to function more smoothly and amicably as a team.
"Not only does learning English help them in their personal lives, it provides them the opportunity to advance through the ranks," says Phil Bowers, co-owner of Fountain Rock Management Corporation, which owns several local restaurants including Brewer's Alley. "It can help someone who starts in the back as a dishwasher move up to wait staff or cook. . . . At first, when we offered the opportunity [to employees], they were a little apprehensive about it and we had only a few sign up. Now they've seen how much it has helped some of the other employees and more and more are wanting to sign up."
Nezih Pistar, owner of Fountain Rock restaurants Ayse Meze Lounge and Pistarro's Ristorante Pizzeria Napoletana, says that "learning how to speak English not only helps employees on the job, but opens the doors to education and economic opportunity, benefiting the entire community."
We are expanding our workplace partnerships with businesses in Frederick County. There are many business sectors employing workers who have limited English or reading ability, including manufacturing and assembly, warehousing, health care, restaurants, landscaping, agriculture, and others. Learn more HERE about the benefits to employers and employees of having a more literate, English-speaking workforce, including improved attendance on the job, increased employee retention and morale, better safety records, and stronger relationships among workers.
Did You Hear the Latest News?