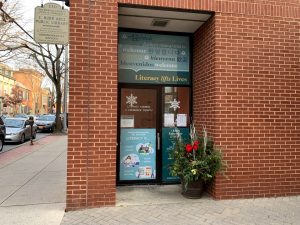 Our Address (also our mailing address)
Literacy Council of Frederick County, Inc.
110 E. Patrick Street
Frederick, MD 21701
Note: This is the same address as the C. Burr Artz Library. Our entrance is next to the FCPL Administrative Offices' entrance on Patrick Street (not the public entrance of the library).  See our map location HERE.
Phone
(301) 600-2066
Email
General Inquiries (including requests for contactless pickup of library materials, new students and volunteers): info@frederickliteracy.org
Executive Director, Laurie Fisher: lauriefisher@frederickliteracy.org
Client Referrals from Partner Organizations
Please complete the LCFC Referral Form to refer prospective clients to the Literacy Council.  Complete the fillable form, scan and send by email to: info@frederickliteracy.org.
Office Hours
Monday – Friday, 9:00 a.m. – 4:00 p.m.
The office is closed for the following holidays: New Year's Day, Memorial Day, July 4th, Labor Day, Thanksgiving Day, Thanksgiving Friday, Christmas and the week between Christmas and New Year's Day.
Office Schedule
The Literacy Council's office is open Monday – Friday from 9 a.m. – 4 p.m. We recommend calling ahead or sending an email to make an appointment so we can make sure someone is available to assist you.  Please see details below.
Please contact us by phone or email at the contact information above, and one of our staff members or volunteer coordinators will assist you.
Tutoring, community classes, workplace and parent literacy programs are being conducted both in person and on distance learning platforms
The Literacy Council's Classroom and a Study Room are available for individual and small group tutoring, and can be scheduled in advance by contacting the office at (301) 600-2066 or by email at info@frederickliteracy.org. The classroom is also being used for some classes during the week, so please check ahead of time for availability.
Volunteer Information Sessions and Tutor Training Workshops continue to be provided online. Learn more and register HERE.
To make an appointment to visit the office, please send an email in advance to info@frederickliteracy.org with the requested date and time of your appointment and the purpose of your visit.  Please wait until you receive confirmation prior to coming to the office. We are monitoring this email daily to make sure that we are able to assist you.
Lobby/contactless pickup of teaching and learning materials from our lending library is available for students and tutors in our lobby M-F between 8:30 a.m. – 4:30 p.m. (except for Frederick County/FCPL holiday or weather closures).  Enter through our side entrance or the double front doors of the FCPL Administrative Entrance.  Please do not request Literacy Council materials from the FCPL's circulation desk.  Contact staff in advance by email to request materials: info@frederickliteracy.org
Stay Connected
Directions
We are located at 110 East Patrick St. in the downtown area of Frederick, MD 21701.
Going west on East Patrick St., the Literacy Council (same building as C. Burr Artz Library Administration Offices) is on the left. (The building is halfway between Carroll Street and Market Street.) You can park in the metered spaces along the street or follow the signs to the parking deck on the left soon after our building.
Enter the side door facing the alley. (This alley is one-way with cars turning onto East Patrick St.)
Inside the vestibule, the Literacy Council's door is on the right. Push the buzzer to be admitted.
Did You Hear the Latest News?