Volunteer Spotlight: Elizabeth Seligmann Award & Volunteer Appreciation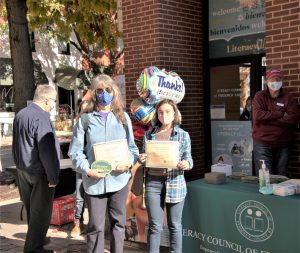 The Literacy Council's entrance was transformed into a curbside celebration November 11-12 to thank and recognize our wonderful volunteers who donated their time to help our adult learners and their families over the past two years since our last in-person event.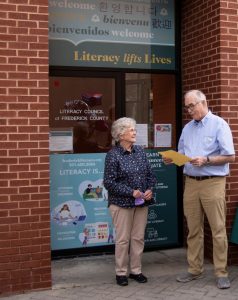 On Thursday, November 11th, Board President Darrell Batson presented Literacy Council volunteer extraordinaire, Doris Vierbuchen, with the Council's highest volunteer recognition, the Elizabeth H. Seligmann Award, in a surprise occasion celebrated with her family who were secretly waiting outside.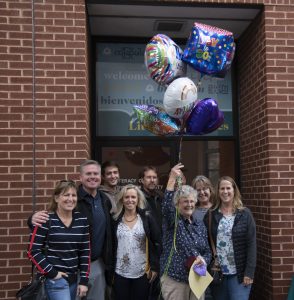 Doris began volunteering with the Council in 1997 after completing tutor training and becoming a tutor for several students.  She became one of our most competent and reliable volunteer office workers, working a 3-hour shift each week at a time that the Council was totally volunteer. She served on the Board and Finance Committee, helping to guide the financial direction of the Council.  She became the Treasurer until 2012, and then became Assistant Treasurer, a position she still holds.  "Doris is eager to help in whatever way she can, and she has a wealth of knowledge as one of the longest serving office volunteers." Lisa Myers, Treasurer
"Every week we look forward to the day when Doris comes in to carry out her work.  She is always cheerful and a joy to work with.  She is an integral part of our team and we are so fortunate to benefit from her skills and that she has chosen the Literacy Council for so many years as the place to make a real difference in our community." Laurie Fisher, Executive Director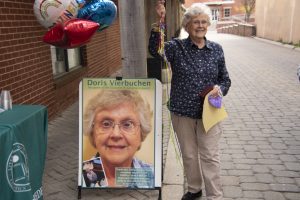 The Elizabeth H. Seligmann Award recognizes volunteers who have contributed sustained and significant contributions to the goals and objectives of the Literacy Council, consisting of outreach to others and reflecting distinctive qualities.  This award was established in 2002 in honor of the late Betty Seligmann, who for 33 years served the Literacy Council with exceptional dedication. Read more about Betty Seligmann's contributions in our November 2021 Volunteer Spotlight.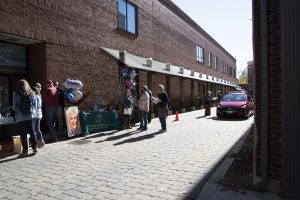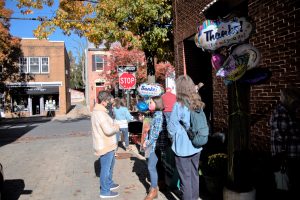 On Friday, Literacy Council volunteers were treated to a Curbside Funnel Cake Thank You hosted by the Board of Directors with hot funnel cakes served by Funnel Fare, and certificates and appreciation items presented to volunteers as they arrived.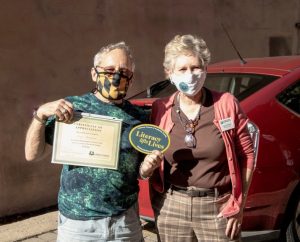 It was a very special day of celebration, with the sun coming through the clouds and lighting up the Literacy Council's driveway and entrance decorated with balloons and a welcoming crowd.  More than 120 volunteers donated their time this past year, over 13,000 hours, to helping our adult learners and their families.  Certificates will continue to be distributed to volunteers in the coming weeks.  Many, many thanks to our amazing Events Committee for organizing this special and creative occasion, and to our Board of Directors who hosted the event.
See Doris' surprise award presentation, and hear about her volunteer journey with the Literacy Council in this special interview on YouTube and in Doris' previous Volunteer Spotlight, December 2020.