Volunteer Spotlight: Betty Seligmann
Written by Caroline Gaver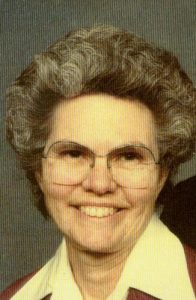 This month's Volunteer Spotlight is a look back to introduce you to a remarkable woman who was a very important part of the Literacy Council's history.
For 33 years, from 1967, only four years after the Literacy Council was formed, until her death in May, 2000, Betty Seligmann embodied the heart, soul, and spirit of the Literacy Council.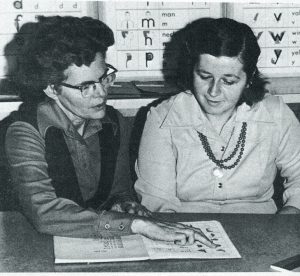 Betty wore many hats over the years.  She volunteered her time, talents, and boundless energy almost full time to the cause of helping adults improve their lives by learning to read. She began as a tutor, then served a term as Board President and was a board member for most of those 33 years.  She manned the office and reached out to the community as a public speaker and by doing interviews, as well as other publicity, including distributing flyers on bulletin boards all over the county.  She became the Council's first certified tutor trainer in 1975, so that we no longer had to depend on trainers from other areas to train our tutors.  She also took many classes to add to her knowledge, so she could pass that knowledge on to the tutors.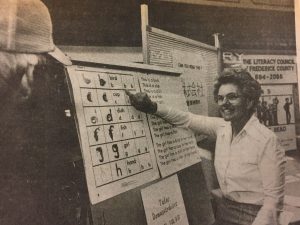 Perhaps her greatest contribution was that she touched thousands of lives not only in Frederick County, but in Carroll, Washington, Allegany and Garrett Counties, as well as in Virginia and Pennsylvania, by training tutors to teach reading to others. Due in part to her efforts, new councils were formed in Garrett and Washington Counties, and she helped emerging councils in Carroll County and in Loudoun County, Virginia. She also collaborated with Maryland Correctional Institution in Hagerstown to train inmates to tutor other inmates.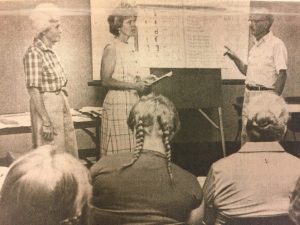 She was the Tutor/Student Coordinator for about 25 years, evaluating students and matching them with tutors.  During many of those years there were over 150 Basic Literacy students.  She provided support to both tutors and students.  She was instrumental in organizing a student support group and served as the mentor for that group.
Shortly before her death, the Literacy Council's Board of Directors honored Betty by naming a new award after her – the Elizabeth H. Seligmann Award.  She was consulted on how to name the award. This is the Council's highest honor and is awarded to volunteers for sustained and significant contributions furthering the goals and objectives of the Literacy Council of Frederick County.  It is not necessarily a yearly award.
After her death, the Board invested some of the Council's funds to establish the Betty Seligmann Literacy Endowment Fund at The Community Foundation of Frederick County.  The Council receives the income from this fund every year. Supporters can donate to this fund, or make a planned gift, to help support the Literacy Council now and into the future.
Betty was an engaging, kind, and inspirational person who became, for many years, the driving force of the Council.  Those who knew her consider themselves very fortunate!