Volunteer Spotlight: Meet Jim
"Whatever the issue, literacy is a part of it. Imagine yourself for a day
or two days, how would you exist if you couldn't read?"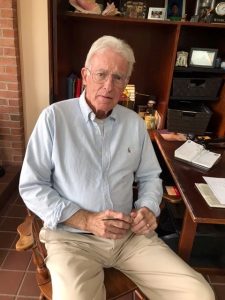 This month's Volunteer Spotlight recognizes Jim, a volunteer who joined the Literacy Council and completed tutor training in January 2019.  Jim has been tutoring students from the Literacy Council's Basic Literacy Program.  We recently interviewed Jim for this Volunteer Spotlight and you can listen to his story in this short video on the Literacy Council's YouTube channel.
Key to the success of adult learning is the matchup … finding the right tutor and pairing them with the right adult learner.  Volunteer tutors come in one track and the potential students come through another pathway, sometimes through referrals from other agencies.  "We study both of their backgrounds to make a good fit," explained Lynn Bruton, Basic Literacy Program (BL) Coordinator. "Jim had the characteristics that made him very sensitive – he had worked with people who had been disadvantaged, he had empathy."
Jim's students are part of the Literacy Council's Basic Literacy Program which helps adults who are 18 or older who are native English speakers. Adults in this program may have trouble reading at a level to succeed in their jobs, drop out of school at an early age, struggle to get a GED, or they may be disadvantaged in some area.  "We try to figure out what they are missing and try to help them," explained Lynn.
How has your career helped you as a Literacy Council Tutor?
Jim retired from a long career in corrections, including teaching at the high school and college level at UMBC and the University of Maryland.  Before he retired, Jim was stationed at a pre-release center and it was all about reentry.  "The guy who has done 30 years comes out and he doesn't know what buses to ride, how to pump gas, do applications online to get a job at Costco.  I retired thinking I need to do something else." While attending the Literacy Council's Tutor Training Workshop he shared his thoughts: "I can make good use of my experience here." Since that time, Lynn has matched Jim with several Literacy Council adult learners.
Why is literacy a challenge faced by many disadvantaged individuals?
"Whatever the issue, literacy is a part of it," Jim reflected.  "If you can't read, you can't get from here to there. There are different ways of learning. Look at us. Imagine yourself for a day or two days, how would you exist if you couldn't read. If you had to buy something, it is hard to image that."
Jim's first student had faced homelessness. "She went from someone who couldn't look you in the eyes. Confidence was a big thing. If you praise her when she does things well, the confidence builds. She had a thing about poetry and part of every session together we would work on poetry. She actually ended up publishing something in the Literacy Council's literary magazine.  She talked about what it is like to be homeless.  She was let go because she didn't have the certificate for infant care. She got back, got her certificate and was working at a childcare center.  The thing I noticed was the growth of her self esteem. Her confidence was restored."
Both of Jim's more recent Literacy Council students left school very early.  "Among the correctional population, the average level is 4th or 5th grade literacy skills. You can almost predict this coming down the line. I consider myself an advocate for those people who returned to the community. My client now remembers anything.  That is a strength. He takes an interest in some of the things in the workbooks – human experience."
Where did you learn to have empathy through your life's work and that you now bring to your work at the Literacy Council and your church? 
"It is a family thing. My mom and my dad are responsible for a lot of it.  Just like we have to be examples. My father worked hard … I never knew him not to work.  My parents and the people I worked with.  Some of the most empathetic people I worked with are correctional officers. The teaching thing goes both ways. It is a reciprocal thing.  I learned things from the inmates. I've got passion and I want to be involved to support people."
Looking ahead: helping our Basic Literacy students who have faced the greatest challenges
The Literacy Council is hoping to build on this experience to better serve future clients.  "Because of the special circumstances involved around people who are in rehabilitation and the need to build personal ties, we have been thinking about starting classes with people at like skill levels and survival skill needs," shared Lynn.  "We hope to get volunteers who have wide levels of experience at every level, who can relate to and understand people who may not be like themselves. That is such a great skill and so much of what I admire about Jim. Thank you for stepping in to help adults who have faced the greatest challenges."
Last year, more than 120 passionate and dedicated volunteers like Jim contributed over 13,000 hours supporting the tutoring, class, parent and workplace literacy programs. The Literacy Council is always seeking volunteers, including class facilitators and instructors! Learn more by registering for a 60-minute Volunteer Information Session offered every month, followed by a Tutor Training Workshop.  All sessions and workshops are currently conducted online.
Many thanks to Literacy Council volunteer Shira, who has been instrumental in helping us to interview our students and volunteers over the past year to share their stories about their work with the Literacy Council.