Celebration of Achievements: A Virtual Tribute to Our Students

2020 has definitely been a year full of challenges, yet our 7th annual Celebration of Achievements, held virtually, is a tribute to the remarkable achievements of our adult learners this year.  In spite of restrictions imposed by the COVID-19 pandemic, our students remained dedicated to their goals of learning, continuing with their classes and tutoring remotely as the Literacy Council transitioned our programs online in March!
What is normally a lovely face-to-face evening shared with Literacy Council students and their families, volunteers and community members, became a virtual event shared by students, tutors and a much wider audience of viewers who tuned in to the Facebook Premiere on November 18th, our "encore" event on November 22nd, "Sneak Peek" previews and many "showings" in between through our Celebration of Achievements Event Page and on YouTube!
Jim Grissom, Board President, opened the evening with a warm welcome and recognized our event sponsors: FCB Bank, A Division of ACNB Bank and Spring Ridge Chiropractic. Board Member Geordie Wilson served as Master of Ceremonies for the event.
The highlight of the event was honoring our students for completing classes and achieving multiple milestones this past year — passing the test for a Maryland driver's license, moving to better housing, helping to support their children's education needs, volunteering in a school or other community organization, improving English language skills in order to obtain a better job, completing a writing or conversation class, advancing in a curriculum series or gaining a higher reading level, and becoming U.S. citizens!  Many thanks to Board Member Erik Jones for presenting Certificates of Achievement to our students! Check out our scrolling recognition slides HERE!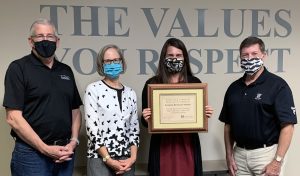 Among other highlights from the event, the Literacy Council announced the awarding of this year's Business and Industry Partner in Literacy Award to Plamondon Hospitality Partners for supporting workplace English classes for its hospitality associates, sharing a video of the award presentation. Workplace classes are held weekly at one of the Plamondon Hospitality Partners hotels for 14 hospitality associates focusing on cleaning and sanitizing procedures, in addition to general workplace and everyday life skills.  Since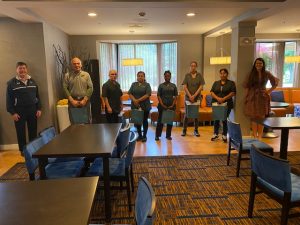 June the classes have been conducted remotely, introducing the employees to new digital literacy skills.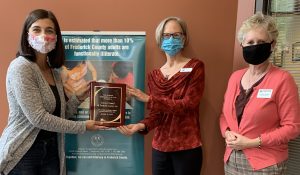 And it was also announced that the Literacy Council has received the annual Visit Frederick Ambassador of the Year Award from the Tourism Council of Frederick County/Visit Frederick for our work in teaching English to hotel housekeeping staff to reduce language barriers between visitors and tourism industry workers.
Video interviews conducted on Zoom with our students and tutors, staff and volunteers, and community representatives featured testimonials about our Workplace and Parent Literacy Programs, tutoring and community classes!  Viewers can hear remarkable firsthand accounts shared directly by people impacted by these programs.
View our Celebration of Achievements Event Page to view highlights from the program as well as our Tribute Book recognizing our wonderful students and sponsors.  The recording from the event is available to view from our Celebration page or directly on YouTube.