Ambassador of the Year Award Honors Workplace Classes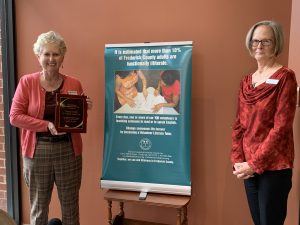 At its Annual Membership Meeting on October 21, 2020, the Tourism Council of Frederick County's Board President Scott Wisnom announced that the Literacy Council is the recipient of this year's Visit Frederick Ambassador of the Year Award for teaching workplace English to hotel housekeeping staff. "This year I am proud to say that our Ambassador of the Year goes to the Literacy Council. This organization teaches English to folks who are in the tourism industry to make sure there is less of a language barrier for visitors coming to Frederick County. This is a fantastic cause … and I think our hospitality industry is better because of it."
The Board of Directors for the Tourism Council created this award in the late 90s to recognize individuals or businesses in Frederick County who positively impact the visitor experience in Frederick County and who significantly contribute to the mission of the Tourism Council.  This was specifically intended to extend beyond the traditional hospitality industry, in order that everyone in the County might realize that they play a role in forming visitors' impressions of Frederick County.
The Literacy Council's Workplace Literacy Program is a collaborative program with employers from the local hospitality and restaurant industries to support English language classes. The intent is to help employers retain an educated workforce and reduce turnover, thereby strengthening the entire community and to empower limited English language proficient employees to gain sustainable employment, contributing to achieving greater financial stability and impacting the lives of their families.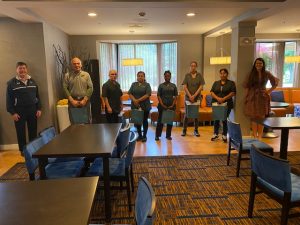 The Literacy Council began conducting weekly English classes for hospitality associates from Plamondon Hospitality Partners' (PHP) four Frederick campus hotels in January.  The winter classes for 14 housekeeping associates were just completing a 12-week session in March when restrictions were imposed state-wide and operations at hotels everywhere were drastically reduced. The Literacy Council pivoted its tutoring and classes to utilize distance learning platforms. Access to remote learning options has enabled the Literacy Council to remain resilient and flexible in its programming during these unprecedented times.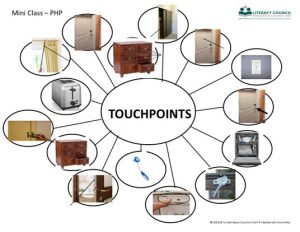 Curriculum Integrates Hotel Industry Cleaning/Sanitizing Protocols: Kim Brown met with PHP hotel representatives to review guidelines produced by the hotel industry and cleaning supplies/service providers.  The prior emphasis on the guest experience and satisfaction immediately shifted to building customer confidence about safe cleaning and sanitizing practices, "flattening the fear".  The new COVID cleaning/sanitizing vocabulary and cleanliness protocols from the hotel industry were quickly integrated into the curriculum with the goal to teach required cleaning and maintenance processes, emphasizing vocabulary and customer interactions associated with disinfecting and sanitizing hotel properties – and ensure a continuity of service.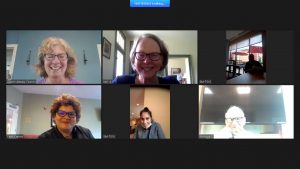 Mini-Class Teaches New Procedures: In June, five employees attended a "mini-class" condensing the normal 12-week class session into four weeks, meeting twice a week.  Classes were conducted by the Literacy Council's workplace instructor online via Zoom.  Housekeeping associates gathered at various locations within one hotel and PHP provided laptops, tablets and technical support for their employees.  The curriculum updates included having the employees practice simple guest conversations related to frequency of sanitization and items being disinfected to boost consumer confidence that appropriate guidelines were being followed at all PHP properties.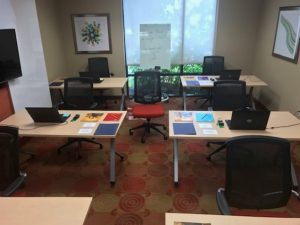 Fall classes Expand Access to Education: Lessons learned from the June "mini-class" have now been incorporated into the teaching materials for 13 employees divided into two classes based on their levels, as happened in the winter classes.  The sessions are running for 12 weeks until the end of November and are being conducted on Zoom.  Employees are meeting in a conference room set up as a classroom (left) and concentrating on COVID-specific lessons, as well as using a student workbook that incorporates everyday life skills.  Even when faced with technology obstacles, the employees are enthusiastic about coming to class and learning new skills – which include digital and technology literacy – similar to how their children are learning through virtual instruction at Frederick County Public Schools.
"We are fully committed to the Workplace Literacy Program offered by the Literacy Council of Frederick County. We see this program as the future for creating an empowered and engaged workforce that will provide excellent customer service experiences to visitors coming to Frederick County." – Michael Henningsen, Executive Vice President of Operations, Plamondon Hospitality Partners
Sustainable & Collaborative Model: The goal of this project is to build a sustainable and collaborative program model for Frederick County's tourism industry as evidenced by the positive outcomes from the TRIPP-funded workplace classes conducted by the Literacy Council of Frederick County. Hotel managers enable employees to attend training hosted at the workplace during their workdays.    The Literacy Council incorporates job-specific skills and vocabulary into classroom materials to meet the needs of the employees/employer. Financial support is provided by the employer and grant funders.  Prior to COVID-19, these workers were the economic engines of a $53 million business in Frederick County.  These workers can directly contribute to the economic comeback of the tourism industry over the next several years.  Investing in training is all about investing in Frederick County's economic recovery. Looking ahead, as these workers gain workforce and everyday life skills, they also represent the workforce of the future, and their families are the fabric of our community.
The development and growth of this program over the past several years is made possible by support from the Community Foundation of Frederick County, Crimsonbridge Foundation, Women's Giving Circle, Rotary Club of Frederick and the Tourism Reinvestment in Promotion and Product (TRIPP) program.  This spring COVID-19 Emergency Relief Funds made it possible for the Literacy Council to transition its tutoring, community class, workplace and parent literacy programs to remote online platforms. To inquire about classes for your employees or for more  information on the Workplace Literacy Program contact coordinator Kim Brown, kbrown@frederickliteracy.org or (301) 600-2066.