Volunteer Spotlight: Honoring Caroline Gaver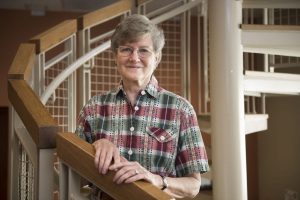 We dedicate this first edition of our new monthly Volunteer Spotlight to Caroline Gaver.
For 45 years, Caroline has volunteered with the Literacy Council of Frederick County.  She is a tireless advocate for adults who struggle to read and write in their native English, or who face obstacles in their daily lives because they don't speak English. Caroline's dedication to the Literacy Council and her legacy to the community were recently featured in "Talking History" in Frederick Magazine's March 2020 issue.
Dairy farmers, Caroline and her husband discovered that many of the people they hired to work on their farm couldn't read.  In 1975,  Caroline saw an ad in the local newspaper about receiving training to help adults learn to read and wondered how to go about doing this. She soon became a tutor with the Literacy Council, later a tutor trainer and a board member.  She is humble and unassuming but truly passionate about getting results.
Over the years, Caroline has contributed more than 32,300 hours of service to the Literacy Council. She has helped to train some 2,850 volunteer tutors for Frederick County and 550 tutors in surrounding counties.  These tutors have in turn helped over 8,700 adults learn to read or to speak English.  She has served in every volunteer position available, including more than 25 years as either board president or board vice president. She is still active as Board Member Emeritus and continues to train new tutors for both Frederick and Washington Counties.
Caroline was instrumental in helping to form Literacy Councils in Washington, Carroll, and Garrett Counties, and showed them how to train new tutors.  She also helped with a tutor training program at the Maryland Correctional Institution in Hagerstown.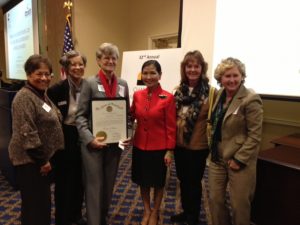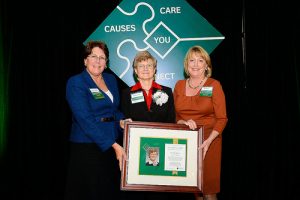 For all these reasons, Caroline was named Wertheimer Fellow for Excellence in Volunteerism by the Community Foundation of Frederick County in 2012 and received the Governor's Service Award for Lifetime Achievement in 2015.
Caroline was one of my trainers over 25 years ago.  She has kept our Council alive by training tutors for 25 years in Washington County – 300 tutors who have helped about 400 adults. Caroline has worked tirelessly so both Frederick and Washington County's literacy programs stay current. You have helped a LOT of people learn to read, Caroline.  Becky Hein, Tutor Trainer, Literacy Council of Washington County.
Caroline has developed an in-depth comprehension of adult learners, teaching strategies, materials, and reinforcement practices that . . . enable our volunteers to engage their students successfully. As a volunteer tutor trainer, she is a role model who artfully applies her expertise and dedication to support literacy for all. Marianne Dacey, Tutor Trainer
Caroline has been the linchpin of the Literacy Council. Only in the last [few] years has the Council employed staff. While her leadership has inspired others, most remarkable is her devotion to maintaining the organization. She has raised funds, sought board members, appeared before organizations to promote the work of the Council and attended to the mundane but necessary details that are essential to the existence and success of an organization. The vitality and effectiveness of the Literacy Council today are primarily due to Caroline's vison and dedication to the cause of literacy. John "Hamp" Tisdale, Board Member
Caroline's commitment to our Literacy Council is exemplary. She started as a tutor, was quickly recruited as a trainer, served as a Board Member, officer including President. Caroline continues to be that 'driving force' in writing grants, helping reorganize the tutor training program, and always being a big backer for Scrabble Mania.  How can we thank her enough? Jim Grissom, Board President.
It is fitting that we are featuring Caroline in the same newsletter issue announcing the launch of our new virtual Tutor Training Workshops!  Please join us in congratulating Caroline for this incredible milestone, and for dedicating a lifetime to advancing the cause of literacy in Frederick County!
Helping hands image: freepik