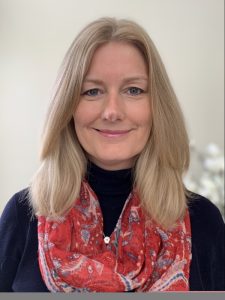 The Literacy Council is pleased to welcome its newest staff member to the team! Victoria dos Santos has joined the Literacy Council's office staff/volunteer team as Program/Office Assistant.  This new part-time position will directly support the Council's growing Parent Literacy and Workplace Literacy Programs, prospective volunteers during the orientation and training process, and provide day-to-day administrative support.  A grant of partial funding from The Community Foundation of Frederick County helped make this new position possible.
Originally from the United Kingdom, Victoria is multilingual, speaking Portuguese, Italian and Spanish, in addition to her native language, English.  Victoria has worked or volunteered in educational systems internationally for over 17 years, including 12 years of English as a Second Language (ESL) teaching experience. She holds a degree in Teaching English as a Foreign Language and is certified in the CASAS assessments instruments used by the Literacy Council to measure English language proficiency and learning progress.
Victoria is already quite familiar with the Literacy Council both as a volunteer tutor since 2018 and as an instructor teaching weekly Workplace English classes for hospitality associates since 2019. She has been instrumental in developing curriculum for the hospitality classes for employees from Econo-Lodge Frederick and expanding the lesson plans and teaching/learning materials used in the restaurant drop-in classes conducted at the Literacy Council this past year.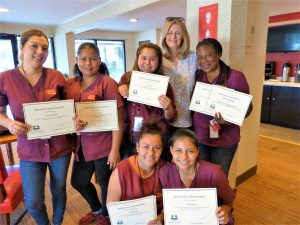 Victoria shares her perspectives on the critical impact of adult literacy programs: "Literacy is an underrated necessity in our lives. It is more than just the ability to write or to read a book. It offers the opportunity to understand a child's report card and to attend parent-teacher conferences without fear of prejudice. It offers the possibility to feel part of a community, and of career advancement. I understand the challenges the students who come into the Literacy Council may face. However, I also understand their goals and aspirations."
The next time you call or drop by the Literacy Council (now for curbside pickup only!), please take the opportunity to welcome Victoria!