Volunteer Spotlight: Volunteer Appreciation Week 2022
"She's not only my teacher, she's my mentor"
The Literacy Council is celebrating Volunteer Appreciation Week April 17-23 by paying tribute to our 120+ wonderful volunteers! Adults in our programs and their families are impacted every day by the time you contribute as volunteer tutors, class instructors, mentors, advocates, administrative support, on committees and in so many other ways.  This past year you contributed over 13,000 hours of your time to help members of our community.
If you haven't had a chance to check out this month's issue of Frederick Magazine, we invite you to enjoy a very special article about the Literacy Council's work: "Reading and Righting" features interviews with Literacy Council volunteers and their students. One of the students shared the quote that is cited above which so perfectly embodies what you give of yourselves — the priceless gifts of time and compassion.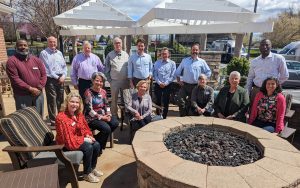 This week our Board of Directors met for strategic planning in person for the first time in quite awhile.  The eve of Volunteer Appreciation Week provides the perfect opportunity to send a message of thanks to all of our volunteers from our Board!
The Dictionary states that a volunteer is 'a person who freely offers to take part in an enterprise or undertake a task'.  It further states that a volunteer 'freely offers to do something'.  Volunteers are the backbones of non-profit organizations, religious institutions, civic clubs, and community action groups.  It is the the very essence of what makes life better for all the citizens of the United States of America. 
During National Volunteer Appreciation Week, April 17 – 23rd, the Board of Directors and the entire staff of the Literacy Council of Frederick County wish to express their sincere thanks to all those volunteers for what you do to reach our collective vision of a community where literacy is attainable for everyone. Literacy does indeed 'lift lives' because volunteers like you put forth the effort to do so.
Darrell Batson, President, Board of Directors, 2021-2022
For last year's Volunteer Appreciation Week we highlighted several characteristics that our volunteers give of themselves in these video testimonials:  compassion, perseverance, and generosity of spirit. These are as true today as when we first shared our tribute with you.  If you didn't see them before, we invite you to view these wonderful video testimonials!