We teach adults the reading and other English language skills they need to provide for their families and contribute to the well-being and prosperity of our community.
El Literacy Council ofrece programas dedicados a los adultos que necesitan ayuda para aprender a hablar, leer o escribir inglés. Los estudiantes deben vivir o trabajar en el Condado de Frederick y ser mayores de 18 años.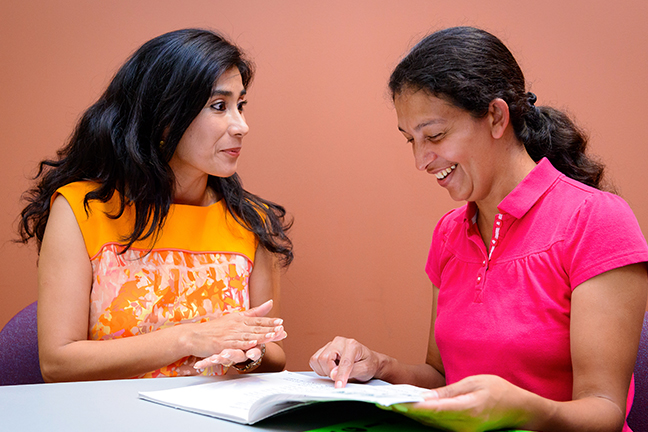 Clases privadas o en grupo
Se ofrecen clases individuales o en grupos pequeños para personas que no son de habla inglesa. Los estudiantes primero aprenden a hablar inglés y luego a leerlo y escribirlo. Todas las sesiones son gratis. Si los estudiantes pueden pagar por los libro se les pide que lo hagan. ¡Empiece a aprender hoy mismo!
Practique la conversación en inglés
Las clases de conversación permiten que los estudiantes adultos practiquen y mejoren su conversación en inglés en un lugar amigable. Las personas que ya tienen un maestro, están esperando por uno o, sencillamente, quieren mejorar su inglés hablado pueden solicitar la inscripción en una clase. Las clases son gratis. ¡Empiece a aprender hoy mismo!
Reciba ayuda para lograr sus metas especiales
El  Literacy Council también puede ayudar a los estudiantes adultos a:
Obtener una licencia de conducir.
Abrir una cuenta en el banco.
Llenar una solicitud para un apartamento, un préstamo, la universidad, y otros.
Prepararse para la prueba de la ciudadanía estadounidense.
Prepararse para el examen GED.
Aprender destrezas básicas de computación y matemáticas.
Aprender inglés para el trabajo (clases en las empresas locales).
A la hora y en el lugar que más le convenga
Las sesiones de clases privadas se hacen fuera de la casa y en el lugar y a la hora que sean más convenientes para el maestro y el estudiante. Las clases tienen un horario establecido y se dan en la oficina del Literacy Council en el centro de la ciudad de Frederick y en otros lugares del Condado. Los estudiantes deben llegar por sus propios medios.
¡Inscríbase en una clase individual o en alguna otra y empiece a aprender!
Did You Hear the Latest News?