Student Spotlight: Meet Seethalakshmy
Welcome to our monthly Learner Spotlight!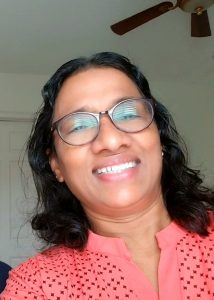 We invite you to meet Seethalakshmy (Seetha), our featured student this month in our "Learner Spotlight".  Featured adult learners  represent the Literacy Council's literacy programs, including authors from Reflections: Voices of English Learners, the Literacy Council's literary magazine, as well as adult learners in other programs.
"My name is Seethalakshmy. I'm from India where I worked as a teacher for about 32 years. My husband and I moved in USA because of living with my mother and family.  I learned the English language in school and college. I could read and write, but I could not speak fluently. After attending different classes at the Literacy Council, I have improved my language and speaking ability. Now I am so excited.
My goals are to become a teacher in USA. Teaching is my passion. I would like to work and serve in society and help the people.
We hope you enjoy Seetha's story, "Learning English." Read about Seetha and view all of our students' stories on our Reflections: Voices of English Learners web page!
"Learning English"
English is the Global language.  First of all, learning English helps us to have more opportunities in our life.  Knowledge of English will help us to achieve all of our goals of our career.  One of the main reasons for learning a new language is to communicate with new people.  Learning English will increase and flourish our talents in different platforms.
Next, learning English will promote our chances to get a job, participate in discussions, and improve our networking skills and increase educational opportunities.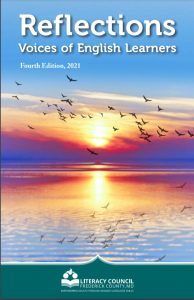 Read more of Seetha's story on page 40 from our 4th edition of Reflections.