Volunteer Spotlight: Meet Shira
"Volunteering for the Literacy Council fills  my soul"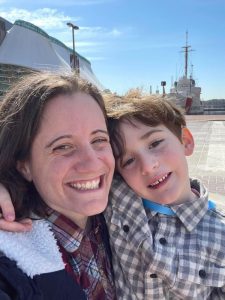 This month's Volunteer Spotlight recognizes Shira who has volunteered with the Literacy Council since 2020.  The Literacy Council is blessed to have volunteers who bring a multitude of talents and passion for helping others.  Shira is one of the organization's treasures, contributing her Events Planning professional expertise and gift of sharing stories that inspire and help people understand the true impact literacy programs have in our community. She frequently shares this quote which represents her outlook on why volunteering is critical to who she is:
"We rise by lifting others."
After March, 2020 when COVID prevented the Literacy Council from hosting its annual Celebration of Achievements event, the organization learned about Shira's volunteer work with the United Way of Frederick County leading the reimagining of United Way's Bravo Awards ceremony into a virtual event.  Joining the Literacy Council's Events Committee, she envisioned an event that would showcase the personal and inspiring stories of adult students whose lives have been touched by the Literacy  Council's mission and the dedication of its 100+ volunteer tutors.
The resulting
Celebration of Achievements
, which debuted in November 2020 as a Live Facebook event, helped to celebrate our students in a new and inspiring way, one that they could share with family and friends long after an in-person event.  Interviews were conducted by Shira (aided by her assistant, Benjamin) with multiple students and volunteers involved in the organization's
Basic Literacy
and
English as a Second Language Programs
and
Parent Literacy Program
, now featured on the Literacy Council's
YouTube Channel
.  In spite of COVID closures, the interviews were conducted on Zoom, and provided a critical means to share the organization's vital work to help adults and their families over the past two years.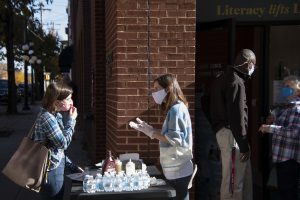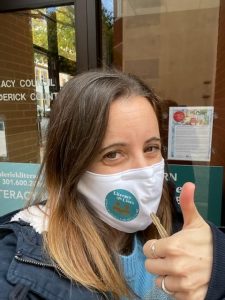 Shira continues to contribute her skills by conducting personal interviews that debut in monthly Volunteer Spotlights (blog posts) and
e-newsletters
, including honoring long time volunteer
Doris Vierbuchen
in November 2021, who was awarded the organization's highest volunteer recognition, the Elizabeth H. Seligmann Award. A curbside Volunteer Appreciation Event organized by the Events Committee is another example of Shira's contributions (shown here serving funnel cakes)!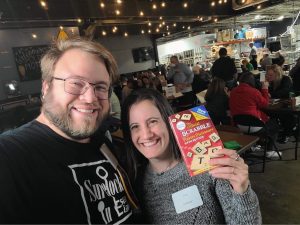 The Literacy Council's main fundraiser each year is Scrabble Mania for Literacy.  It was cancelled in 202o due to COVID shutdowns, and in 2021 was held as a virtual event with teams playing in two tournaments.  Shira, again as a part of the Events Committee, helped reimagine and facilitate an engaging interactive competition, where the Literacy Council partnered with Chris Sparks and
SurelockedIn Escape Games
.  Most recently, Shira's Event Planning skills contributed to another successful 
Scrabble Mania for Literacy
in-person event led by
Game Master Chris Sparks
at
Olde Mother Brewing Company
on April 27, 2022 (see photo, left, thanks to Bill Stover, Volunteer Photographer).
"Shira has made a tremendous impact on how the Literacy Council is able to communicate how 'literacy lifts lives' through story-telling and bringing alive the importance of this work to families and our community. Her energy and enthusiasm for helping to make this world, and our community, a better place shines through in everything she does!" Laurie Fisher, Executive Director
Last year, more than 120 passionate and dedicated volunteers like Shira contributed over 13,000 hours supporting the tutoring, class, parent and workplace literacy programs. The Literacy Council is always seeking volunteers, including class facilitators and instructors! Learn more by registering for a 60-minute Volunteer Information Session offered every month, followed by a Tutor Training Workshop.  All sessions and workshops are currently conducted online.