Learner Spotlight: Congratulate Our Parents
Welcome to our monthly Learner Spotlight!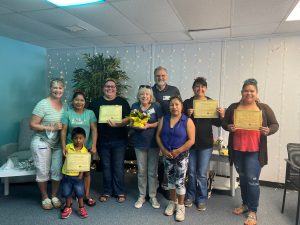 This month's "Learner Spotlight" is dedicated to congratulating the parents from Waverley Elementary School who recently completed a new Parent Conversation Class. As part of the Literacy Council's Parent Literacy Program, the Literacy Council and the Judy Center partnered together to provide weekly English classes for parents at Butterfly Ridge and Waverley Elementary Schools. Bringing a free English conversation class to parents at their children's school eliminates the barriers of low funds, lack of transportation and navigating an unknown space to gain education.  This class was well received by the staff and participating parents (not all could attend the final class where certificates were presented).
Volunteer instructors John, Lynn, and Erin,  co-taught, and at the parents' request, added a second class session each week.  From January through June, parents met one to two times a week at the school after dropping off their children. Their goal was to improve their English language skills. With the logistical support of Pupil Personnel Worker Debbie Wivell and with childcare provided by the Judy Center, two instructors from the Literacy Council met with the parents for an hour class.
Lynn shared feedback from the Waverley class: "Parents stated that their chief aim in learning English was to become an advocate for their children at school, and to take an increasing role in contributing to the school and the larger community. They also served as role-models for their own children, demonstrating the important principle of lifelong learning.  The parents quickly formed new friendships and enjoyed improving their English, as well as sharing stories and experiences with their new classmates."  All involved—the school, the agencies—but especially the parents—are looking forward to starting another successful session this fall at the new Waverly location and Butterfly Ridge.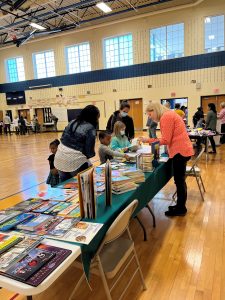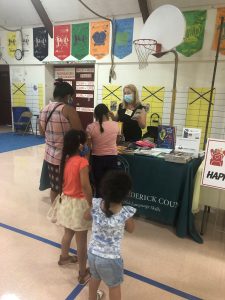 Volunteer tutors and parents are working together to build English language skills that help support their children's education through the Literacy Council's collaboration with four FCPS elementary schools and the Judy Center.   Tutoring, parent conversation classes, and community outreach events during family literacy and back to school nights, parent/child playgroups, food drives are all providing news ways to connect parents with the resources they need to support their children's needs.