Learner Spotlight: Adult Learner Graduates from Tutoring Program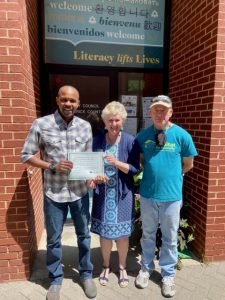 Congratulations to Thierno on his many accomplishments in the Literacy Council's Tutoring and Class Programs! Thierno recently was awarded a certificate presented by his tutor Pat Kennedy and Executive Director, Laurie Fisher, in recognition of his graduation and transition to Frederick Community College!
We well remember Thierno and Pat faithfully meeting each week at the Literacy Council pre-COVID, and then they continued meeting on Zoom to keep the momentum and learning going!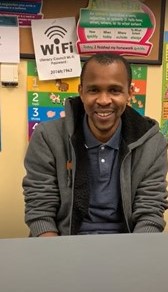 "Tutoring helped me facilitate my integration in work and society and everyday life.  I am more comfortable with people when they speak.  English classes at Literacy Council helped me to get my drivers' license." Thierno has also attended the Literacy Council's beginning speaking, reading and writing; conversation; and  computer ESL classes.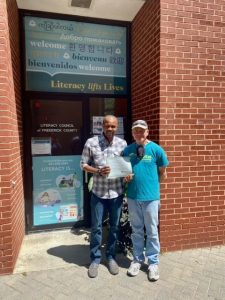 Many, many thanks to Pat for his dedication to his students over the years! We featured Pat in a previous
Volunteer Spotlight
where you can learn more about his background and volunteer work with the Literacy Council.  Reflecting on his experience as a tutor since 2012, Pat advises for future tutors: 
"All you can do is make the material available, try to explain things the best you can. They make you look good by their efforts.  (Thierno) You make me look like a good tutor!  It is up to the student to embrace and run with it."