Volunteer Spotlight: Meet Patrick Kennedy
People … contribute to the larger society and
that is a bit like throwing a pebble into a pond.  It is rewarding.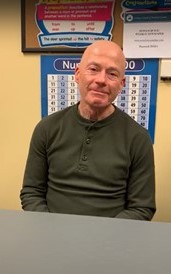 Patrick Kennedy (Pat) sought out the Literacy Council after retiring in 2012 from his work with Health and Human Services and the Social Securities Administration. Pat's wife, Therese, referred him to the Literacy Council when she was volunteering at their church and received an email that the Literacy Council was looking for tutors, saying … "You can do this"!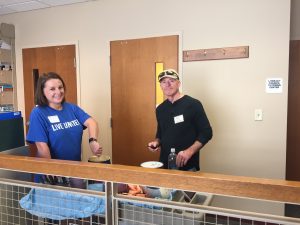 Pat attended a Tutor Training Workshop and realized this was a good counterbalance to all the physical activity he was involved in through his volunteer work with Habitat for Humanity where he helps at Restore and serves as a crew leader.  Pre-pandemic Pat would travel to New Orleans to help with disaster recovery efforts following Hurricane Katrina, a tribute to his wife's family.
In 2019, Pat helped oversee a team of volunteers at the Literacy Council for United Way's Day of Action painting tutor rooms and the office area!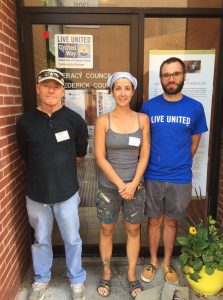 Since becoming a tutor, Pat has tutored four students over the years.  He describes the goals of one of his former students, Ruben, who wanted to be able to talk with his boss, speak with his 11 year-old granddaughter in English, and to become a U.S. citizen.  After struggling to pass the citizenship test, Pat and Ruben reconnected recently and shared the joyful news that he passed!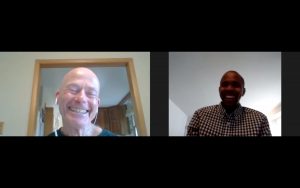 Since 2019 Pat has been tutoring Thierno.  Traveling by bus, Thierno would meet Pat faithfully each week in the Literacy Council office until COVID restrictions forced the office to close and requiring tutors and students to meet remotely.  Since that time, Pat and Thierno work together on their weekly lessons remotely.
Thierno is originally from Guineau, West Africa, where he received a degree in economics.  A native French speaker, his goal is to take computer science courses in college in the United States. "I want to improve my English. I had many difficulties about speaking and comprehension when other people speak.  I see the difference from before I started and now."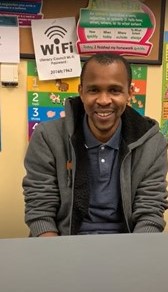 Pat describes his relationship with Thierno.  "He is patient with me. To come to a society where you don't understand the language it takes a lot of courage to move forward."
Thierno joined the English as a Second Language (ESL) Tutoring Program at the Literacy Council in 2019.  "Tutoring helped me facilitate my integration in work and society and everyday life.  I am more comfortable with people when they speak.  English classes at Literacy Council helped me to get my drivers' license." Thierno has also attended the Literacy Council's beginning speaking, reading and writing; conversation; and  computer ESL classes.
Reflecting on his experience as a tutor since 2012, Pat advises for future tutors: "All you can do is make the material available, try to explain things the best you can. They make you look good by their efforts.  (Thierno) You make me look like a good tutor!  It is up to the student to embrace and run with it."
Hear Pat and Thierno's interview together HERE on our YouTube channel.  Learn more about the Literacy Council's ESL Programs.
Last year, more than 150 passionate and dedicated volunteers like Pat volunteered over 12,800 hours supporting the tutoring, class, parent and workplace literacy programs. The Literacy Council is always seeking volunteers. Learn more by registering for a 60-minute Volunteer Information Session offered every month, followed by a Tutor Training Workshop.  All sessions and workshops are currently conducted online.