Volunteer Spotlight: In Memory of Kim Doyle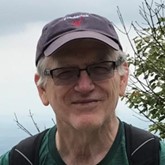 The Literacy Council is saddened by the recent loss of volunteer
Kim Doyle
who passed away on July 11, 2022. He played soccer and lacrosse at Loyola College of Maryland, graduating with an English degree before serving in the army during the Vietnam War. He was an athlete, scholar, loved writing poetry and studying language, and became a fluent Francophile. He was a frequent contributor to the Brunswick Citizen newspaper, a bicycle enthusiast, and an unwavering fan of the Arsenal Football Club and the Baltimore Orioles. In his community, he was a driving force in the early days of the Potomac Valley Youth Association recreational soccer league.  Kim loved sharing all these passions with his wife of 54 years, Jean, his family, and his friends.
After retiring from the Federal Bureau of Prisons, he began volunteering as a Literacy Council tutor in January, 2018, and his work was truly inspirational.  Kim loved working with his students at the Literacy Council, contributing more than 400 hours of volunteer service. He provided support to his students throughout the challenges of COVID, initially working with them in person and then faithfully continuing through online instruction. Over the course of his volunteer time with the Literacy Council, he tutored five adult learners, and facilitated a weekly Intermediate Conversation class during the fall, winter and spring sessions over the past year, until the end of June, shortly before his death.
We are so thankful for Kim's dedicated and compassionate service to his students and the Literacy Council. His students were deeply saddened to hear of his passing, speaking so highly of him.  One of his students shared this heartfelt message about how Kim helped them in their effort to learn English: "I will remember him as a person from whom I received help in my learning English, encouragement in my projects and great energy … he continued with a nice attitude smiling and full of hope.  It filled my heart to meet him and receive his selfless support all this time."
Thank you to the many generous friends and family members of Kim who have made contributions to the Literacy Council in his memory.  The Literacy Council gratefully acknowledges the contributions of volunteers who have passed away in this In Memoriam tribute.