Volunteer Spotlight: Girls Scouts & Volunteers Support Day of Action Project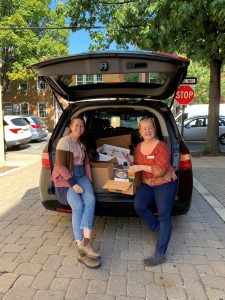 Many, many thanks to Girl Scout Troop 81762, which is partnering with the Literacy Council during September and October to support our READy for School Children's Book Drive! Thanks to their efforts, over 700 new and gently used children's books for age ranges birth – 5th grade have already been collected! The books will support families in our community through the Literacy Council's Parent Literacy Program.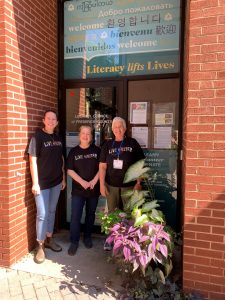 On Friday, October 7th, the Literacy Council participated in United Way's Day of Action, and the books collected by the Girl Scouts were delivered to the Literacy Council offices where they are being sorted and organized for distribution, under the guidance of Holly Bohman, volunteer Parent Literacy Coordinator and Rachel Heuver, Office Assistant. Kudos to volunteer tutor Pat Kennedy, who painted before bookshelves were installed! United Way's Board Chairman, Sharon Jacko (also the Literacy Council's Vice President), stopped by to check on progress!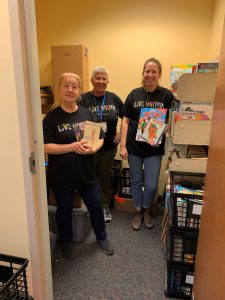 Providing appealing, age-appropriate books to children fosters literacy at a young age and helps to break the cycle of low literacy in families. The Literacy Council is partnering with the Judy Center and four FCPS elementary schools by providing tutoring at the schools for the parents, which has a lasting benefit for the entire family. The books will be given to parents of children in the elementary schools that are participating in the Literacy Council's programs, as well as to many of our other adult learners with young children. Books are also distributed at multiple community outreach events. This past year, the Literacy Council participated in 23 family literacy and outreach events.
Book donation suggestions include: Younger grades/ages – Board books, picture books (fiction and nonfiction), early chapter books; and for older grades – mid-grade chapter books, paperback series, graphic novels, and STEM titles.
Drop Off Locations: The Girl Scouts have a drop off site at the Spring Ridge Visitor Center (Linganore/Bartonsville) from August 28 – October 30th. If you have a large number of books to donate, pickup can be arranged by contacting the Girl Scout Troop via email: cooney6435@yahoo.com
Books can also be dropped off at the Literacy Council's office at 110 E. Patrick Street M-F between 9-4 next to the C. Burr Artz Library's Administrative Entrance (directly on Patrick Street).  Stay tuned for our annual Holiday Book Drive that will kick off on November 14 and run through December 19th.
Questions: Contact the Literacy Council at (301) 600-2066 or info@frederickliteracy.org
The Literacy Council of Frederick County provides adults with pathways to essential literacy skills. Success for the individuals and families we seek to serve rests on a collective community approach that shapes a full path to a thriving life. You can learn more about ways to volunteer on our website. Listen to what our tutors have to say about their work on this short YouTube video!