Learner Spotlight: Meet Inok
Welcome to our monthly Learner Spotlight!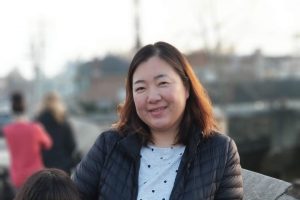 We invite you to meet Inok, our featured student this month in our "Learner Spotlight".  Featured adult learners  represent the Literacy Council's literacy programs, including authors from Reflections: Voices of English Learners, the Literacy Council's literary magazine, as well as adult learners in other programs. Inok contributed stories to the fourth edition.
My name is Inok. I'm from South Korea. It's been 6 years since I lived in Frederick with my children, my husband, and my cat and turtle. For many reasons, my family has lived in 5 states in the United States. Frederick is probably the best of all because there are good places like the Literacy Council. Thank you for always providing good teachers and being a meeting place for good friends. I worked as a social worker in Korea for 8 years. I was afraid to come to America and find a new dream and start over, but I decided to take the first step toward studying English. And if I keep walking, I believe I'll reach my dream.
We hope you enjoy Inok's stories, "How to Settle Into a New Town", "The Happiest Moment of My Life", and "My Favorite Space." Read about Inok and view all of our students' stories on our Reflections: Voices of English Learners web page!
"How to Settle Into a New Town"
Since 2012, my family moved to America from Korea. During that time, we moved nine times in five states in the United States. It was a really hard time for me, but I was able to learn how to settle into the new town. It is like finding and enjoying the beautiful treasures of each
town and comparing them to the previous town I lived in. Therefore, I could get new ideas for living life in America. Let me tell you about how I was able to settle down when I moved to a new town.
First, I needed a positive mind before entering the new town. As everyone knows, it is easy to have a lot of stress when someone goes to a strange place. In this kind of situation, it is helpful to list the good things about a new town with positive thinking. For example, Frederick
is nearby Washington, D.C., or I like a suburbs area such as Frederick. Second, explore your new town and find your treasure spots.
The first way to explore the city after I move in is to search the internet. Google search, "Frederick County", "Frederick map," "mountain or
park nearby house," and "church nearby me." Then I drive myself to search places. If you take a few days and look around the neighborhood, you will find a shortcut and find a beautiful observatory. Last, join a group to get new friends. In my case, I needed to learn English, so I found ESL classes such as FCC and Literacy Council. I met many good friends and teachers from there. They give me a sense of belonging.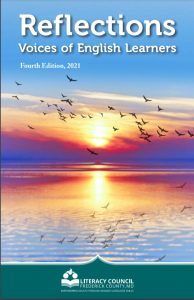 Read more of Inok's stories on pages 14-15 from our 4th edition of Reflections.