2022 Celebration of Achievements Spotlights Learners, Volunteers and Community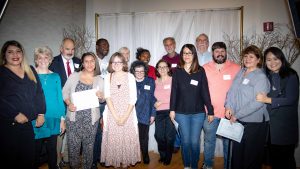 The Literacy Council held its 8th Celebration of Achievements event on November 3rd at the Delaplaine Arts Center, a joyful occasion recognizing our adult learners who completed classes and accomplished milestone achievements this past year.  Program highlights from the past year kicked off the evening in this celebration video.  Hosted by the Board of Directors, the evening was enjoyed by students and their families, volunteer tutors and class instructors, and guests who were present to pay tribute.  Geordie Wilson, Board President and Master of Ceremonies, opened the evening with a warm welcome, recognizing event sponsors: Lapera-Holler Real Estate Teams, Inc. and Patriot Federal Credit Union, as well as 2022 sponsors from earlier in the year.
Geordie reflected on the organization's upcoming 60th anniversary in 2023, and shared updates on the new strategic plan developed by the board and staff that will guide priorities and direction for the next three years. The new mission and vision focus on how literacy lifts lives by providing Frederick County adults with pathways to essential literacy skills through collective community impact. These themes were evidenced throughout the evening through the Literacy Council's four pillar programs: Community Classes, Parent Literacy, Tutoring, and Workplace Literacy.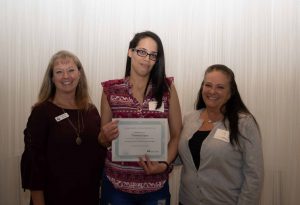 Workplace Literacy Program Benefits Employees and Employer
Guest speaker Becky Servey, General Manager for Plamondon Hospitality Partners' Courtyard Marriott Hotel, shared her experience about the impact of Workplace English classes for the business' hospitality associates. Representatives from Plamondon Hospitality Partners and ProList, Inc., a direct mail marketing company, were both recognized for providing their employees with workplace English classes.
Learners Receive Recognition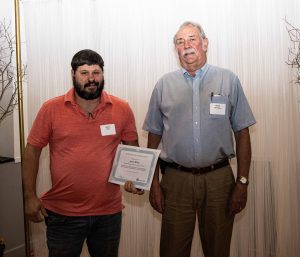 Student authors Jacque B., Silvia M., Amilcar V., Jinjin C., Maria V., and Sungheui B. read from their stories published in the Literacy Council's literary magazine, Reflections – Voices of English Learners.  The audience heard from Jason W., one of the Literacy Council's Basic Literacy students and his tutor, David McAllister, who shared their experience working together.  Jason was recognized for receiving his high school diploma through Frederick Community College's GED program.
Highlights of the event also included the recognition of the adult learners present by awarding special certificates of recognition for their many achievements. Examples included: getting a new job, a driver's license, advancing in a curriculum series, passing a standardized test, graduating from the tutoring program to attend Frederick Community College, and becoming a U.S. citizen.  Board Member Erik Jones and Volunteer Coordinators Holly Bohman, Lynn Bruton, Alix Cooney, and Catherine Coundjeris presented Certificates of Achievement, and also recognized the tutors who were present for their service helping their students.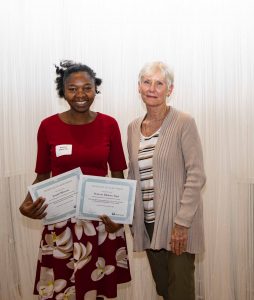 The literacy journey of two students, Perresse and Joseph, captivated the audience in this video interview: A Literacy Journey with LCFC with their tutors, Mary Flessner and Martin Cole.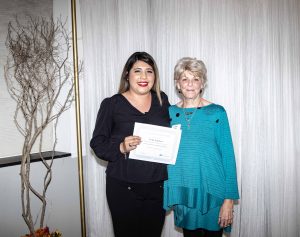 Tutor Carole Rodero recognized her student Carla E. who mastered English over several years and is now teaching at a local private school.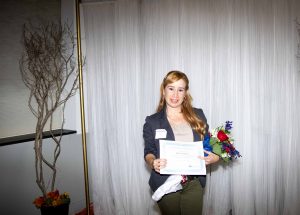 Jackelin C. and Comfort O. were recognized at the end of the evening with bouquets of flowers in tribute to receiving their U.S. citizenship, along with their tutors Susan Welkos and Robert Elder.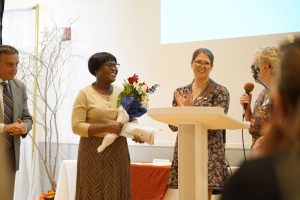 More recognitions: Local Business & Industry Partners in Literacy Awards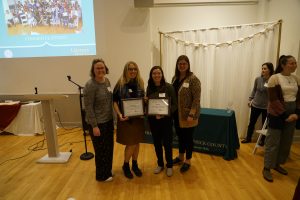 This year's recipients of the Literacy Council's Business and Industry Partners in Literacy Award were presented to two businesses:
Postern was recognized for its work with the Literacy Council for providing nonprofit marketing capacity to build literacy partnerships and programs for our community. Accepting the award were: (from left to right) Emily Dorr, Owner; and members of her team, Lanie Condor and Kelsey McManimon.
The Tourism Council of Frederick County/Visit Frederick also received an award for its support of the Workplace Literacy Program that provides classes for hospitality and tourism employees from six hotels. Accepting the award was Katie Reichard, Visitor Services Manager.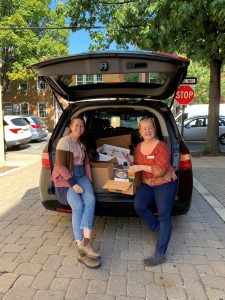 Girl Scout Troop Leader Alix Cooney received recognition for Girl Scout Troop 81762's successful organization of the READy for School Children's Book Drive that resulted in over 750 donated books to support the Literacy Council's Parent Literacy Program and family literacy community outreach events.  Last year, 23 events were attended to provide program information and donated books for the families to encourage reading.
Thank you to everyone who joined us for the evening!! Congratulations to our students for  your incredible accomplishments.  The Literacy Council extends many thanks to Shira Kundinger for conducting interviews with our students and tutors and creating a heartfelt video testimonial of our students' literary journey. We are also grateful to Bill Stover of Jover Fine Art Productions for contributing his time and talent as our event photographer!
THANK YOU TO OUR EVENT SPONSORS!!