Students Share Their Stories in Reflections Event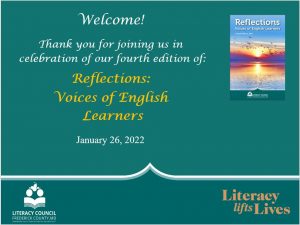 Adult learners, volunteer tutors, members of the Board of Directors, Reflections sponsors and the community gathered for a virtual "Celebration and Book Launch" on January 26th to celebrate the publication of the Literacy Council of Frederick County's inspiring new literary magazine fourth edition of Reflections:  Voices of English Learners featuring stories written by our students.  Darrell Batson, President of the Board of Directors, gave his opening remarks, recognizing the significant accomplishments of our students  despite the challenging past two years.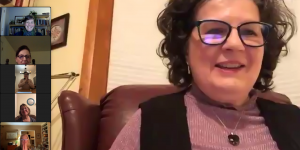 Catherine Coundjeris, Co-Editor with Julie Heifetz, shared the genesis of the magazine and introduced nine of the 25 contributing authors who read their work online from the fourth edition of Reflections.  Reflections is a very special publication. It emerges from the minds and hearts of our student body and their perspectives on life in general.  Some are English learners and some are English speakers who are improving their reading and writing skills.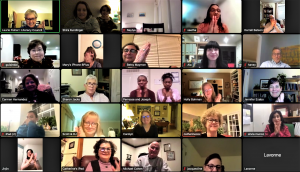 Each author introduced themselves and enthusiastically read their published work to the audience:  Joseph K. read "Moving to the United States"; Seetha V. read her piece, "The Dark Shadow"; Jacqueline B. shared "An Inspiring Woman"; Ala D. read "My Friend"; Silvia M. shared "2020 A Ruthless Year"; Jinjin C. read "My Journey to Learn English".  Perresse T. read "A Person Whom I admire", Lily D. read "An Anecdote During the Pandemic", and Amilcar F. read "The Path to My Memories".
The audience responded enthusiastically and at the conclusion, Board members shared their appreciation for the authors' accomplishments.  The students taught the attentive audience at the launch event a great deal with their amazing perspectives and astounding insights into the world.  Even though we were unable to hold the event in person, it was a lovely evening joined on Zoom by students' friends and families.   Catherine Coundjeris shared reactions shared by several students  following the event:
"I was so touched by all the stories. My mom was an immigrant and although she's been gone for many years, the stories made me feel close to her," said tutor Mary Elizabeth Loverro
"What a wonderful event last night!  I am always surprised by the students who want to share these heartfelt memories which can be so emotional.  These students are truly brave human beings in every sense of the word", from Holly Bohman, ESL Coordinator
Student author Silvia M. commented, "A big round of applause for tutors who encourage us to write is needed … how you persist  to explore potential  skills in the students  to express in a second language.  The supportive atmosphere that you created, the confidence that I have to read aloud the essay, is just a magical moment  with all of you. I believe that  we all love the Literacy Council because it allows us to achieve our dreams no matter the size of the dream."
"I enjoyed being part of  the audience and witnessing the fantastic progresses that the students have made over the year", shared tutor Lavonne Radonovich.
"The book launch was amazingly friendly. We shared our stories, some of our precious memories, our journey on learning English, and other topics in a brave and honest attitude", shared author Jacqueline B.
Thank you to our sponsors:  Marlene and Tom England from Curious Iguana, Jane and John Ketchem, and Catherine Cox and Charles Murray for their generous support. Betsy Maymon was also recognized for her amazing contribution as graphic artist for the magazine's layout and design. Our student authors selected the cover image.
A tremendous thank you to co-editors Catherine Coundjeris, volunteer Writing classes instructor and ESL coordinator, and volunteer tutor Julie Heifetz, for your vision and leadership in inspiring and supporting our students!
Everyone is invited to read all four editions now available in digital copies on our dedicated Reflections page on our website!