Learner Spotlight: Meet Naylya
Welcome to our monthly Learner Spotlight!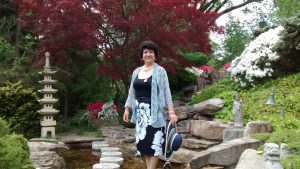 We invite you to meet Naylya, our featured student this month in our "Learner Spotlight".  Featured adult learners  represent the Literacy Council's literacy programs, including authors from Reflections: Voices of English Learners, the Literacy Council's literary magazine, as well as adult learners in other programs.
My name is Naylya.  I came from Russia to be with my family.  I recently began to learn English.  My granddaughter is still little.  I became a student at the Literacy Council of Frederick County to better understand her, my family, and others around me. I am grateful for this wonderful opportunity to learn English.  Thank you very much to the organizers and to my teachers who help me improve my language skills.
We hope you enjoy Naylya's story, "My Favorite Places to Visit." View all of our students' stories on our Reflections: Voices of English Learners web page!
"My Favorite Places to Visit"
I began learning English not too long ago. I am writing today about my favorite places. When I came to Maryland, I was amazed by the natural beauty of this state.  It is spring right now.  When we are driving, we see emerald fields, blooming trees, and beautiful flowers.  My heart is full of joy.  It is all God's creation. I used to live in a country with a harsh climate, where plants were not blooming and diverse as they are here.
When I go to Washington DC, I always visit the garden near the Smithsonian Castle. It is beautiful any time of the year, especially when cherry and magnolia trees are blossoming. I like the Dumbarton Oaks Garden with its terraces, gardens and plants.  I also visited the National Arboretum. Several times I visited the National Botanical Garden. It has a big collection of different plants including rare and almost extinct plants. Its collection of orchids is fantastic.  But my favorite place to visit is Hillwood Estate Museum and Garden.
This museum was established by its original owner Marjorie Merriweather Post. It has a big extraordinary art collection.
Read more of Nayla's story on page 33 from our 3rd edition of Reflections.