Students Featured at "Reflections: Voices of English Learners" Special Event
Literacy Council of Frederick County volunteer tutors, students, and members of our community came together at Curious Iguana Bookstore the evening of October 7th to celebrate the second edition publication of the Literacy Council's literary magazine, Reflections:  Voices of English Learners. Richard Haney, newly elected Board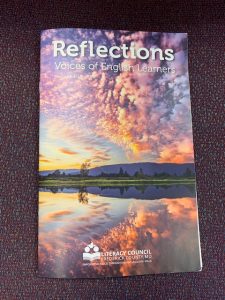 President, opened the evening's program with great energy — greeting everyone in the multiple languages spoken by the Council's adult learners who are published in the magazine. Co-editor of the magazine, Catherine Coundjeris shared the genesis of the magazine and thanked sponsors Marlene and Tom England from Curious Iguana, Jane and John Ketchem, and Betsy Maymon – who donated her services as graphic artist.
The students enthusiastically read their published work to the audience:
Jesús Aguilar – "How I Cook My Favorite Food"
Amilcar Fernandez shared his writing with attendees through Makayla Domingo, a FCC drama student who read his poem: "Letter to My Mother"
Crystal Beggs – "Homelessness"
Jacqueline Badro – "Short but Exciting Visit"
Rocio Chereguino – "Salsa, One of the Joys of My Life"
Silvia Muñoz Moreyra – "Becoming American with Peruvian Roots"
The audience cried and laughed along with the students as they shared a part of themselves and their view of the world.  Each reader received a journal and gift card to Curious Iguana from Marlene and Tom England.
As wine and sparkling cider were served, authors autographed their visitors' copies of Reflections.  Students received congratulations by their tutors, board members, and community members.  Surrounded by books and endless possibilities, students were filled with a sense of pride in their accomplishments and warmly voiced their reactions to the evening.
One student shared: "Today you really make our world different. Your Support meant [the] world to us and because of you…we felt that we can achieve our dreams."
Tutor George Conly shared his reaction to the event and his experience reading Reflections: "Just seeing the names of all those tutors and reading the grateful comments the students wrote about them made me realize what a special place the Literacy Council has become."
The Literacy Council has been invited to present a workshop session featuring LCFC's writing classes and Reflections as a modality for encouraging student narrative at the Maryland TESOL Conference (Teaching English for Speakers of Other Languages) at Prince George's Community College on November 9th.  Catherine Coundjeris, volunteer writing class instructor will present accompanied by students:  Jacqueline Badro, Rocio Chereguino and Silvia Muñoz Moreyra.