Downtown Restaurant Workers Enthusiastic About Learning
October 30, 2019 – Kitchen workers from downtown Frederick restaurants celebrated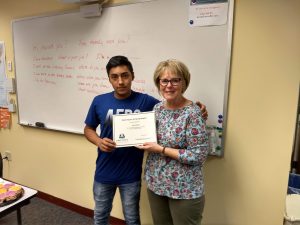 "graduation day" at the Literacy Council following completion of a new 10-week English drop-in class focusing on improving communication skills for beginning English speakers.  Vocabulary and conversations center on the food service industry.  The class will continue for another 10-week session, enabling the workers to continue their learning and review lessons from the previous session.
Volunteer instructors Barbara Kippen and Lacey Walker teach from curriculum adapted from lesson plans developed by the Literacy Council's volunteers and taught in classes the past several years at Brewer's Alley and Ayse Meze with Fountain Rock Management Corporation.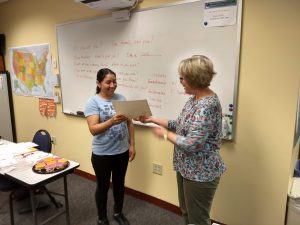 The Literacy Council's growing Workplace Literacy Program is targeted to reach employees working in lower wage job sectors. To recruit employees for the first class, Kim Brown, Workplace Literacy Program Coordinator, walked to downtown restaurants to deliver flyers and speak with restaurant managers, promoting the class as a resource to support their workers with job-relevant and everyday life skills training.  Many thanks to Downtown Frederick Partnership and the Tourism Council for helping to get the word out!
Workplace literacy programs provide the training and basic skills necessary for employees to communicate more effectively with customers, colleagues and supervisors, to maintain their careers or achieve promotions, and to improve business efficiency, flexibility and effectiveness.  The data is clear.  Women who improve their literacy and language skills can anticipate higher wages and job advancement. This benefits their families and the community through increased purchasing power, greater productivity for businesses, and higher tax revenues for local governments.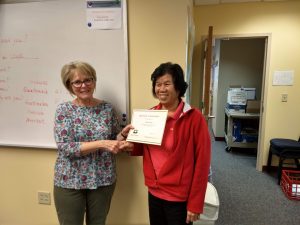 The vision for the Workplace Literacy Program is to be a catalyst for collaboration between employers (encouraging their employees to attend and supporting their learning), the Literacy Council (conducting lessons that meet the needs of the employees/employer), and community funding partners, resulting in a mutual investment initiative that demonstrates the community's commitment to helping women achieve financial stability and a more stable livelihood for themselves and their families.
The Literacy Council's Workplace Program is made possible by support from the Crimsonbridge Foundation, a Frederick County Community Partnership Grant, the Tourism Council, a United Way Community Impact Partner Grant and the Women's Giving Circle.  The Literacy Council is reaching women at the workplace by collaborating with employers in the hospitality sector to provide access to on-site classes that will contribute to financial stability and independence by improving English language proficiency and everyday life skills.
To learn more, contact Kim Brown, Workplace Program Coordinator, kbrown@frederickliteracy.org or (301) 600-2066.