Learner Spotlight: Meet Vanessa
Welcome to our Monthly Learner Spotlight!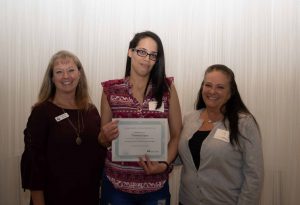 We invite you to meet Vanessa, our featured student this month in our "Learner Spotlight." Featured adult learners represent the Literacy Council's Tutoring, Community Classes, Parent and Workplace Literacy Programs, as well as authors from our literary magazine, Reflections: Voices of English Learners.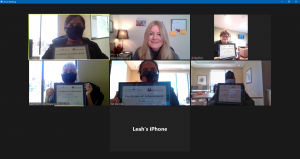 Vanessa was among the first group of hospitality associates from Plamondon Hospitality Partners which began partnering with the Literacy Council in January 2020 to support their employees by conducting Workplace English classes at the workplace.  She also participated in the pilot workplace class that incorporated new cleaning and sanitizing procedures and protocols, transitioning on short notice to Zoom immediately following COVID restrictions in 2020, enabling the classes to continue throughout the pandemic.  Since that time, 23 of the business' associates, including Vanessa, have participated in classes from all six of their Frederick, MD Marriott and Hilton branded hotels.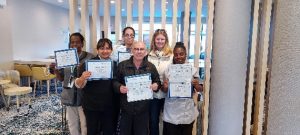 Vanessa has been working as a hospitality associate at the Courtyard Marriott, and recently in the Courtyard Bistro.  She was recognized by the Literacy Council and Courtyard Marriott's General Manager Becky Servey, at the Literacy Council's Celebration of Achievements event in November. Becky shared, "Vanessa continues to seek additional work and is eager to learn other areas.  Her drive is evident, but also her English skills have increased tremendously, giving her the confidence and ability to seek and try new things!" The Literacy Council presented Vanessa with a Certificate of Achievement by Becky and Ginger Trautman, Talent Manager at Plamondon Hospitality Partners.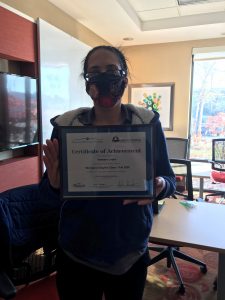 Victoria dos Santos, the Literacy Council Workplace Instructor for Vanessa's class, attributes Vanessa's success to how hard she works in class: "Vanessa is always the first student to class, and she arrives with a smile.  She always does her homework and has made great strides in learning English.  She never misses a class and always tries her very best. She has improved immensely over the last few months, and she is always looking for ways to improve her English outside of the class. She is also my IT helper and was invaluable when we did the lessons online during COVID. Vanessa is a such wonderful student and a pleasure to have in class."
During the Celebration event, Becky shared her experience as General Manager from one of the hotels whose associates have taken advantage of the classes offered by the Literacy Council.  "I have seen both how these classes have impacted the associates personally and professionally, as well as the benefits provided to the hotels and guests they serve.  It couldn't have happened without the mission of the Literacy Council or the progressive, outside of the box approach to business and associates that Jim and Pete Plamondon hold for their hotels, consistent with their belief that 'education will change the world'."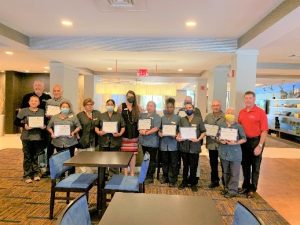 The Literacy Council and Plamondon Hospitality Partners are starting the fifth year of conducting weekly workplace classes during fall, winter and spring sessions, and the success of the program is due to the commitment to invest in their associates, knowing that offering classes while "on the clock" could eliminate any barriers employees may have for finding transportation outside of work hours to take classes and also incentivize them to take advantage of this opportunity.
There are so many benefits for both the employee and employer, realized from this partnership.  There is better and more confident communication with both staff and guests.  Productivity is better because the needs and processes are better understood.    Team morale is higher because of engagement.  Associates have been promoted beyond entry level positions and many have cross trained in other departments or are taking on new responsibilities, allowing them to increase their knowledge of the industry and positioning them for likelihood of advancement.
On behalf of Plamondon Hospitality Partners, Becky concluded by adding "We are proud to be able to offer this program to our associates, like Vanessa, and we're grateful to the Literacy Council, and their staff, for their forward thinking.  We know that the Workplace Hospitality Program will spread to other businesses, and we are certain that the Literacy Council will expand workplace classes to other industries as well.  Thank you for including us in your mission to provide Frederick County adults with pathways to essential literacy skills."