Learner Spotlight: 5th Edition of Reflections Features Student Authors
Tutors, students, Board Members and members of our community met in person for the first time in two years March 6 to celebrate the publication of the Literacy Council of Frederick County's fifth edition of its literary magazine, Reflections: Voices of English Learners. Geordie Wilson, Board President, gave opening remarks celebrating the creative work of the writers. Laurie Fisher, Executive Director and Sarah Fowkes, Program Manager, joined in welcoming the audience and recognizing the extensive contributions made by the authors and their tutors.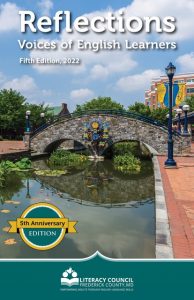 Co-editor of the magazine, Catherine Coundjeris, shared the genesis of the magazine and interviewed the contributing authors who read their stories from the fifth edition of Reflections.  Students introduced themselves and enthusiastically read their published work to the audience:  Karma C. read "The United States of America Was My Dream"; Flor S. read her piece "Make a Reality Out of Our Dreams"; Jacqueline B. shared and excerpt from, "The Big Decision to Leave Syria"; Sidike B. read, "My Favorite Space"; Maria V. read to us "Thanks to the Literacy Council"; Lily Dai shared,"Dangerous and Fun"; and Silvia M. read an excerpt from, "A Sense of Humor."  The students each answered two questions about their stories and their writing process.  Each reader received a journal and gift card to Curious Iguana from Marlene and Tom England.  The group gathered at The Frederick News-Post building and shared light refreshments.  The students were filled with a sense of pride in their accomplishments and warmly voiced their enjoyment of the evening.
Karma said, "On the morning of March 6th, I woke up and I was excited and calm because I practiced well. At noon, the countdown began with traffic of feelings. I should be strong because my family was waiting the video of my speech. Our teacher Miss Catherine gave us some advices: read slowly and clearly, look to the audience and take breath. It was really an unforgettable experience to stand up front all people and speak in English. It was an amazing and joyful night. Huge thanks to Miss Catherine for trusting us and for the Literacy Council for inviting us."
Lily shared with us her learning experience with reading in the book launch: "The most important things I learned was how to better demonstrate my speech skills first and foremost don't rush, pause, look up, relax, be confident, and get over your fears in big moments. Practice repeatedly to make myself more fluent in speaking and reading English. I also learned that some things that sound easy are actually the hardest tasks to complete and that some that sound tremendously difficult actually aren't so bad at all. Just try it."
Flor was grateful for the experience: "I had the opportunity to visit the Literacy Council about four times to pick up my books and I have always had the opportunity to meet some excellent people who have treated me very well and being able to answer my questions has been very exciting for me to be able to express myself.  I also had the honor of being able to share a bit of my life at the book launch where I was able to read a page from Reflection Magazine number 5. At first, I was very nervous given I was in front of many people, but the teachers there and other people who were there supported us so that we can learn a new language. My teacher Catherine helped me practice a little before the event and little by little I forgot that I was in front of many people. It was very nice my husband and my children were with me and it feels great that they give you support and say that you did very well. They also had refreshments and many people thanked us.  It was a wonderful experience, and knowing that we can continue with our goals is something wonderful as well."
Jacqueline added: "The book launch atmosphere was exciting and friendly. For many of us, it was the first time that we had met in person. We were inspired by each other's stories, and were motivated by the attendee's encouragement and comments. The meeting was wrapped up by delicious snacks and an interesting fellowship."
Many thanks to our generous sponsors Lapera -Holler Team, Marlene and Tom England from Curious Iguana, and Jane and John Ketchem for their generous support.  We are in deep gratitude to Betsy Maymon for her amazing artistry as volunteer graphic artist for the magazine.
A tremendous thank you to co-editors Catherine Coundjeris, volunteer Writing classes instructor and ESL coordinator, and volunteer tutor Julie Heifetz, for your vision and leadership in inspiring and supporting our students!
Everyone is invited to read all five editions now available in digital copies on our dedicated Reflections page on our website!