Volunteer Spotlight: Meet Denise & Irene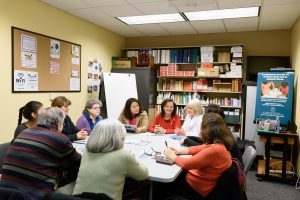 This month's Volunteer Spotlight is a tribute to two truly amazing Literacy Council volunteer tutors, Denise D. and Irene R., for leading our Wednesday morning Advanced Conversation Class for over 11 years!  This class brings together friends, colleagues and new members every week at 10:00 a.m., starting up again each fall when families are back to school and running until the end of the school year.  You always know it is Wednesday by the sounds of our students climbing the spiral staircase to the classroom, conversing with friends, welcoming new students and greeting the staff. Denise and Irene have also tutored students for many years.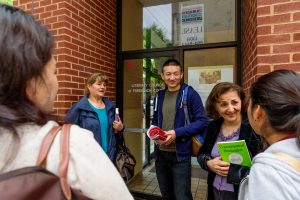 Every week Denise and Irene initiate the group's dialogue, providing a safe, supportive and nurturing environment for our adult learners to practice conversational English, discuss a range of topics, explore current events from our News For You weekly newspaper and develop lasting friendships. Holidays are a time to celebrate with pot luck dishes at the Literacy Council on the final week before a break.  After pandemic restrictions forced our classes to transition online, Denise and Irene willingly moved the class to a weekly Zoom session and kept on going, providing a familiar routine during this past challenging year.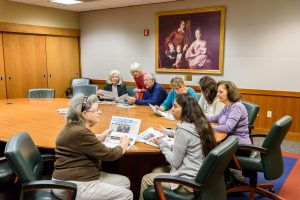 Laurie Fisher, Executive Director, shares her gratitude: "In your 11 years of offering this class you have brought joy, friendship, and a safe place to learn together for so many of our students. We can't thank you enough for your time and dedication to our students over the years.  You have made a HUGE difference in our community and you should feel very good that the conversation class format that you developed is alive and well and continues for multiple levels of students."
Originally meeting in the lower level of the office around a long folding table (as seen in this video about the Literacy Council), this class has helped set the direction for expanding the class instruction program, which quickly outgrew our lobby!  Several years ago the Literacy Council reorganized our office space to create a dedicated classroom upstairs with our teaching and learning lending library.  A local civic organization painted the room, and community organizations, volunteers local funders contributed  donations and grants to purchase tables and chairs, a "smart board" and projection equipment (Literacy Council classroom pictured in the top left photograph).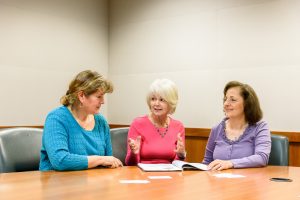 Denise and Irene recently decided it was time to retire from leading the class and shared that they plan "to continue to see our students, who are now our friends, on an informal basis".  Today, the Literacy Council offers multiple weekly classes conducted by volunteers over 12 week sessions, including multi-level and student-led conversation classes, writing, civics, beginning literacy and curriculum-based classes matching student proficiency levels.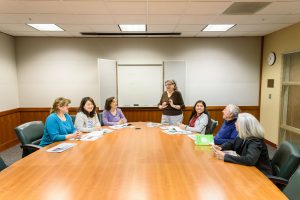 "It's amazing to see how our students have grown in confidence and built wonderful relationships throughout your time with them. Truly, your impact cannot be measured", shared Jennifer Szabo, Program Manager.
Messages from Students:
"This is one of those moments when we feel like our hearts are breaking and that giving thanks doesn't seem like enough. Because they are both excellent people, teachers and friends. Ms. Irene and Mrs. Denise have always given us their unconditional help and have become part of our family. A very strong hug for both of you and we will always carry you in our hearts."
"Even if I learn English, I think I can't use it well in my life. In unfamiliar people and in unfamiliar circumstances, my poor English is a burden. Through Denise and Irene, I practiced how to communicate with people. You've become such a comfortable person to me. Thank you very much for your dedication."
"I want to send this message to thank you for everything that you are helping us in advance to learn the English language on my own, it is very important because before I could not communicate and talk with other people but now I do. I want to keep learning more English. because I want to teach maybe in the future. Thank you and I send you blessings for these people because without these people they will not be able to do these classes thanks to Ms. Denise and Irene thank you for everything."
Last year, more than 120 passionate and dedicated volunteers like Denise and Irene volunteered over 13,000 hours supporting the tutoring, class, parent and workplace literacy programs. The Literacy Council is always seeking volunteers, including class facilitators! Learn more by registering for a 60-minute Volunteer Information Session offered every month, followed by a Tutor Training Workshop.  All sessions and workshops are currently conducted online.