Literacy Council Recognized at 60th Anniversary Ribbon Cutting on International Literacy Day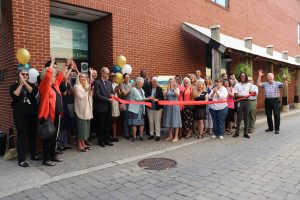 September is all about literacy and back to school for children and their parents!  National Adult Education and Family Literacy Week September 18-22 and International Literacy Day on September 8 became the setting for a month packed with programs and events at the Literacy Council!  On International Literacy Day, the Frederick County Chamber of Commerce honored the Literacy Council at a ribbon-cutting ceremony in recognition of sixty years of lifting lives through literacy in our community.
Commendations of the Council's work were presented by Senator Karen Lewis Young's delegation, City of Frederick Mayor Michael O'Connor, County Executive Jessica Fitzwater, Downtown Frederick Partnership Executive Director Kara Norman, and Frederick County Chamber of Commerce presented by Debbie Streeton.  Literacy Council Board President Sharon Jacko, addressed the audience sharing an overview of the Literacy Council's program impact resulting from new strategic priorities. Watch a short video of  our special event HERE!
The Literacy Council of Frederick County began in 1963 by tutoring adult students individually,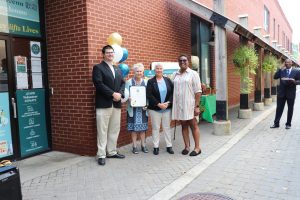 and this kind of tutoring remains at its heart. New volunteer tutors are trained in online sessions conducted by seasoned literacy tutors, and volunteers with classroom teaching experience attend orientations to prepare them for teaching community classes.  The Council is always looking for new volunteers.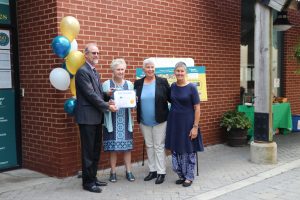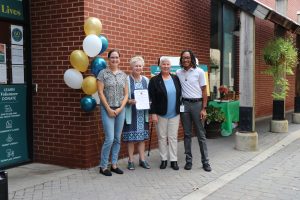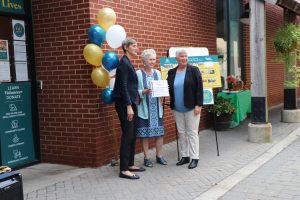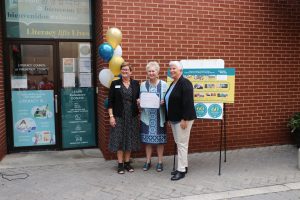 Thanks to the work of thousands of volunteers, nearly 10,000 adults have attained the English literacy skills that have allowed them to find good jobs, raise their children with confidence, and contribute to the overall well-being of Frederick County.  This past year, 178 volunteers dedicated 14,200 hours of service to help 357 adult learners. Of these adults, 236 adults participated in individual and small group tutoring, and 191 adults participated in over 40 weekly community classes taught by volunteers.  Eight workshops trained 78 new volunteers to join the tutoring program, joining this amazing network of caring individuals giving back every day to our neighbors throughout Frederick County, ready for the next sixty years!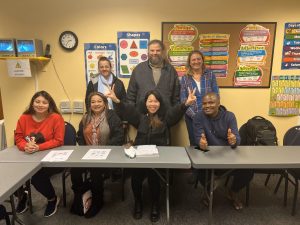 This fall, the Literacy Council increased its offering of weekly community classes to over 25 classes conducted in-person and remotely during different days and times in its classroom in the C. Burr Artz Library building and in the library's STEM Lab, Brunswick and Walkersville Branch Libraries, two elementary schools, and other satellite locations near Ballenger Creek and the new Family Support Center with the Asian American Center of Frederick.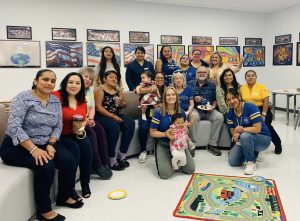 Helping parents gain literacy skills is critical for the future success of their children through the Council's Parent Literacy Program. The Council collaborates with Frederick County Public Schools to provide English language support for parents at five County elementary schools. In classes and through individual tutoring, Council volunteers have supported the parents of 438 children during the last year.  Thanks to the donation of new and gently-used children's books at the Council's  annual Holiday Book Drive, the Council participated in over 20 community outreach and family literacy events distributing books and connecting with adults in need of literacy programs.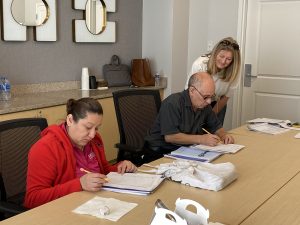 The Workplace Literacy Program teaches English to employees at their worksites. The Council has partnered with Plamondon Hospitality Partners for five years and has also worked with employees in other hospitality companies and in the manufacturing sector. Thanks to a new multi-year grant from the State of Maryland's Department of Commerce, the Office of Tourism, and in collaboration with the Tourism Council of Frederick County, the Workplace Literacy Program continues to expand, welcoming employees from three new hotels owned by Cohenterprises.
The Fall Volunteer Training Schedule offers the following one-hour Volunteer Information Sessions on Zoom to learn more: Wednesday, October 4 from 11 a.m. – 12:00 noon, Thursday, October 19 from 7 – 8 p.m., Wednesday, November 8 from 10 – 11 a.m., and Thursday November 16 from 7 – 8 p.m. Tutor Training Workshops (also held on Zoom) will be held on Monday and Wednesday, October 23 & 25 and Monday October 30th (6:30-8:30 p.m. attend all three sessions) or Tuesday and Thursday, November 28 & 30, and Tuesday, December 5 (6:30-8:30 p.m. attend all three sessions). Learn more by registering HERE for an upcoming Volunteer Information Session!
Literacy Council of Frederick County is located in the C. Burr Artz Library Building in downtown Frederick, at 110 E. Patrick Street, and can be reached at (301) 600-2066 or infor@frederickliteracy.org.