Learner Spotlight: Meet Hilda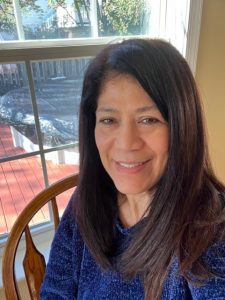 We invite you to meet Hilda, our featured student this month in our "Learner Spotlight".  Featured adult learners  represent the Literacy Council's programs, including authors from Reflections: Voices of English Learners, the Literacy Council's literary magazine, as well as adult learners in other programs. Hilda contributed her story to the fifth edition.
My name is Hilda. I am Salvadoran with a degree in chemistry and pharmacy. I started studying English at the Literacy Council in 2019. I was fortunate to be assigned a tutor to whom I am very grateful for his unconditional help. I love walking and watching funny, romantic and action movies. I also love meeting people and learning about their cultures and customs. I also love visiting beautiful places with the family. My goals are to work in my field, obtain my U.S. citizenship and buy my own home.
We hope you enjoy Hilda's written work, "My First Job in America". Read about Hilda and view all of our students' stories on our Reflections: Voices of English Learners web page!
"My First Job in America"
In El Salvador I worked in quality control at Bayer. I knew basic English, but I wanted to improve. I arrived in the United States in December 2018 and started looking for a job in my field, but it was not possible to find one because of my difficulty with the English language. However, I continued looking for a job and managed to get one outside of my career field in a supermarket called Giant in the salad bar area. The job consists of preparing fruits and vegetables and packing them and labeling them under the guidelines of good food practices. Due to the knowledge of my career and experience in the area of quality control, I began
writing specific procedures for the area, formatting them as a list that facilitated and sped up activities and wrote the specific rules of good food practices under proper food code references.
I also wrote the procedures for staff training. I actually supervise a person in this area. I help monitor continuous improvement in food safety and passed an inspection by the authorities. I thank my tutor, Gary B., for teaching me and helping me in reviewing the documents I wrote.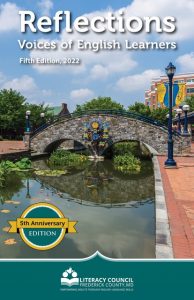 Read more of Hilda's writing, on page 20 from our 5th edition of Reflections.