Learner Spotlight: Meet Helon
Welcome to our monthly Learner Spotlight!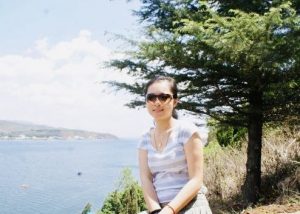 We invite you to meet Helon, our featured student this month in our "Learner Spotlight".  Featured adult learners  represent the Literacy Council's literacy programs, including authors from Reflections: Voices of English Learners, the Literacy Council's literary magazine, as well as adult learners in other programs. Helon contributed her story to the third edition.
I have been studying in Frederick Literacy Council for 3 years already, the time flies!  I gained and learned a lot from the Literacy Council, and I contacted many people who come from diverse backgrounds during this period. This learning experience will be a great help to my future academic study and work. No matter where I go in the future, I will remember this warm experience. Thanks to my teachers, Literacy staff, and all the people who support us in learning there. I hope I have the opportunity to become someone like them to help others in the future too.
We hope you enjoy Helon's written work, "Reading to Children." Read about Helon and view all of our students' stories on our Reflections: Voices of English Learners web page!
"Reading to Children"
Reading books to children is the best solution for parents to prepare their children for elementary school. It is beneficial for children's future school life and their academic learning. Firstly, reading books for children can cultivate their social skills. To begin with, parents read books for their kids, as an ideal platform, can hone children's communication skills. Such as listening, speaking, and understanding, which can enable kids to complete mastery of diverse social skills. I preferred to read some books with pictures and music when my son was three years old. The book "Baby's First Animal" by Jennifer H. Keast, which combined picture and music, is a good example of one. These kinds of music books developed my son's singing and listening. So, in this way, children practice
their social skills if they can read books with their parents.
Secondly, reading books for their children can increase the kid's knowledge. Firstly, parents, with reading books for their kids, could expand the kid's knowledge base. To be more specific, the more they read books for their kids, the more likely they will widen their kid's knowledge horizon so as to extend their kid's knowledge base.
Read more of Helon's writing on page 11 from our 3rd edition of Reflections.