Learner Spotlight: Book Club Explores "Coming of Age in the 21st Century"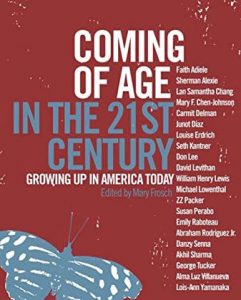 Written by Catherine Coundjeris, Book Club Facilitator and Writing Classes Instructor
This winter's Book Club at the Literacy Council met for three sessions and delved into stories from an anthology, Coming of Age in the 21st Century edited by Mary Frosch.  It was a an inward journey of self-exploration as first generation Americans and people of multi-cultural perspectives pushed the boundaries between family and personal identities, searching for belonging in such stories as "Fire: An Origin Tale" by Faith Adiele, "Knuckles" by Mary F. Chen-Johnson, "The Shawl" by Louise Erdrich, "The Boy Without a Flag" by Abraham Rodriguez Jr., "The Eve of the Spirit Festival" by Lan Samantha Chang, "La Llorona/Weeping Woman" by Alma Luz Villanueva, "Triad" by Danzy Senna, and From Burnt Bread and Chutney: Growing Up Between Cultures—A Memoir of an Indian Jewish Girl by Carmit Delman.
We shared our definition of the term "coming of age" as we discussed Octavio Paz's quote: "Self-discovery is above all the realization that we are alone: it is the opening of an impalpable, transparent wall—that of our consciousness—between the world and ourselves." We crossed boundaries into lives of other individuals as they forge new lives for themselves in a changing world.
Members of the Book Club included students: Bandee W., YR, Kacoutie A., Maria V., Jacqueline B., Silvia M., Paul R., Sidike B., and Joselyne N. We also had the pleasure of tutors who also participated in the discussions:  Diana P. and Beth Z.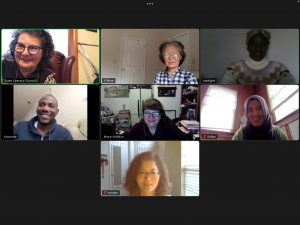 Members shared their own personal coming of age moments, and their experiences journeying through their lives.  Bandee W. likes the opportunity available in sharing stories: "I liked the book club because I was able to hear some different perspectives from readers on the same subject. I learned and tasted different cultures from different countries. A book club gives me a motivation to read. Without meeting and discussion, I wouldn't be able to continue reading nor finish a book." 
In addition, Bandee looks forward to further reading experiences: "Overall I enjoyed the book club and I want to join the summer book club again. I hope to read some American classics to understand and experience more American culture in the future."
New member, Joselyne N. gained a lot from joining the Book Club:  "I liked the book club. I found 'The Shawl' by Louise Erdrich interesting for me, because even if it was a sad story, I liked the lesson of it."  YR was very enthusiastic about her experience: "Thank you, Catherine, your book club is one of the best ways for us to open our minds and interact with each other.  Reading books on anthologies was even greater because it helps us to broaden our choices to be made in reading materials.  Thanks again for your time and help."
Many of the stories we read in this anthology were excerpts from larger works.  YR also had this to say about reading anthologies: "I liked to read [anthologies] not only to learn new languages and cultures, but also it is helpful in finding other books to read."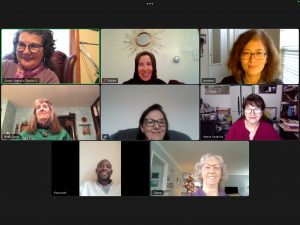 Another member, Jacqueline B. enjoys the friendships that are formed with the Book Club: "l always enjoy the book club. It clarifies a lot of vague ideas, expands and enriches our thought through the different points of view shared by the participants, and it also improves our written and spoken English.  Besides it empowers us and helps us build good social relationships with each other. Thank you, Catherine, for the important and the helpful power points you always prepare. Thank you, Literacy Council, for providing us with this opportunity. God bless you!"
Long time book club member Maria V. shared "My experience in the Book Club was pleasant, because it was an opportunity to share information, learn from different cultures, discover new authors and new books. In my case, it improved my vocabulary and spelling. Thanks for encouraging us to read books."
Anyone who is a member of the Literacy Council is invited to join our biannual group. We have been holding the Book Club for several years now, and have read such books as The Distance Between Us: Memoir by Reyna Grande, Enrique's Journeys by Sonia Nazario, A Revolution is Not a Dinner Party by Ying Chang Compestine, The Kite Fighters by Linda Sue Parks, and As Far as the I Can See by former Literacy Council tutor and Co-editor to Reflections (the Literacy Council's literary magazine), Julie Heifetz. We also read another anthology edited by Mary Frosch and in addition Faith Adiele called Coming of Age Around the World.  We are open for suggestions for our next Book Club meeting, which will be sometime in July/August. An announcement will be made in our upcoming class schedule for the Summer.  Thank you again for a lovely winter gathering!