35th Annual Calendar "Flowing Waters" to Benefit the Literacy Council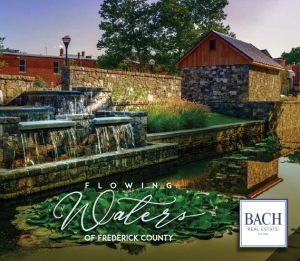 Jennifer and John Grove, owners of Bach Real Estate recently released the brokerage firm's 2020 calendar, "Flowing Waters," showcasing the work of local veteran photographer, C. Kurt Holter.  "Kurt's inspired images remind us of our most important resource and the need for good stewardship," said Jennifer Grove.
The 2020 issue marks the 35th edition of the annual calendar and 38th year of business for the locally-owned real estate company.  The calendar features 15 stunning images of water scenes captured in every season throughout Frederick County, including the Monocacy River, Catoctin Creek, Frederick City Watershed, Culler Lake, Carroll Creek Park and more.
Bach Real Estate is donating the sale proceeds of the 2020 calendar to the Literacy Council of Frederick County. "Throughout my life," said Ms. Grove, "I've heard the statement that 'America is a country of immigrants.' This seems to be particularly true today as 10% of the Frederick County population is now foreign born."
Ms. Grove said that the ability to read, write, and speak English is fundamental to employment, family stability, and health. "While Frederick County may be home to many new immigrants, it's difficult to feel at home when you don't speak the language, you're struggling to get a job, and feeling disconnected from your children who are assimilating faster at public school."
"Because of their vital contribution to the community, we selected the Literacy Council as our partner for the 2020 Bach calendar," said Ms. Grove, adding that the public can support the Council by becoming a volunteer tutor or by making a financial gift.
Copies of the 2020 "Flowing Waters" calendar can be purchased for $5 at the Literacy Council of Frederick County, 110 E. Patrick Street (next to the Admin. entrance of C. Burr Artz Library) in downtown Frederick. The office is open M-F, 9 a.m. – 4 p.m. For more information, call (301) 600-2066 or info@frederickliteracy.org
Calendars can also be purchased at the Bach Real Estate office, 5340 Spectrum Drive, Suite G,  Frederick. For more information, call (301) 695-9600.