Volunteer Spotlight: Meet Judy
"The Literacy Council has been a wonderful way to get involved, make a difference,
sharing with wonderful people from all walks of life."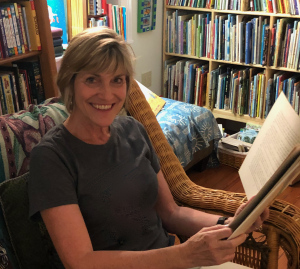 This month's Volunteer Spotlight recognizes Judy, a volunteer who recently joined the Literacy Council and completed tutor training in January this year.  Judy expressed interest in teaching a class, based on her previous classroom experience. We share Judy's story with other current and future Literacy Council volunteers about teaching in a classroom setting. We had the pleasure of interviewing Judy for this Volunteer Spotlight and you can listen to her story in this short video on the Literacy Council's YouTube channel.
Judy's background is in journalism.  She has worked as a writing and communications consultant for 20+ years. She first joined the United States Air Force as a Public Affairs Officer, working with the media, contributing to newspaper content and traveling a lot – every 2-3 years for 30 years.  She met her fighter pilot husband in the service.  From this experience she knows what it is like to be a stranger in a strange land without the language. "Throughout my adult life with a new move and new home, I have had to kind of reinvent myself always around communications and language."
Judy's experiences also included working for the State Department as a Community Liaison Officer, as well as in nonprofit communications. Prior to moving to Frederick two years ago she was involved with the Loudoun County Literacy Council in Leesburg, Virginia where she got involved with programs for English language learners.  "After moving to Frederick, I was sitting in a church in Frederick and the Literacy Council came to the church I was attending. When that person started talking about the Literacy Council, I thought 'there is my community'. They were involved, reaching out to different places in Frederick."
This encounter led  Judy to attend a tutor training workshop with the Literacy Council.  After completing the workshop, Judy's first "assignment" was teaching a "Ventures 3" class of adult learners on Zoom using curriculum provided by the Literacy Council that includes teacher lesson plans and student workbooks.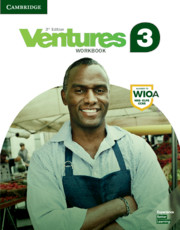 Ventures is one of the curriculum series that the Literacy Council is using and it is ideal for classes and individual tutoring alike.  Tutors and students appreciate the multitude of online resources that are available with the curriculum. "I found that for me I like classes because I can multiply the effect of helping more, and I am comfortable with the teaching from years of doing it."
Judy shared highlights from her Ventures class which meets once a week: "Four to eight students are great on Zoom. They show up on Thursday nights and I have a lesson plan.  We go through that and we touch on 1-2 exercises in Ventures. What I like to do is go to News for You (a newspaper for adult learners) and we read the stories together.  Mostly I try not to talk. I will provide a discussion point or a writing exercise and the I try to back out and they take it and go with it."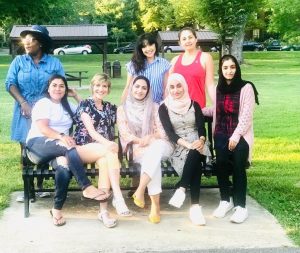 "What I have noticed more than understanding their grammar is these students are really a support group for each other now.  You create the space for them to feel safe. I have found that the books and all the scholastic types of things, the grammar lessons, parts of speech, that is useful. But when you go to their heart – what is meaningful to them – home, their native country, the foods they eat, tell them to give you a tour of their homeland. That is when they want to learn, they want to share their language with their classmates. It is nice to have a mix of Ventures and other things, but also informal discussion."
Judy wanted to have a special class period where everyone could see each other in person.  They met at Baker Park and brought food and blankets. "Here I am in Frederick, and I feel fairly close to people who are not from Frederick – yet they are all part of the Frederick community. A lot of them have been in Frederick for 15 years."
How did you learn how to teach?
"You learn it better if you teach it. You learn from your students.  In my classes I will have students take the floor and teach the class.  I feel like I get more out of it sometimes than the students do.  I believe the best teachers are the ones who can communicate most effectively.  You might know the standards and theories, and you might be well read on experts in education …. but until you can communicate and resonate with your audience or your students, I don't think you will convey it all very well."
What are some tips for teaching a class?
The Literacy Council trains you to bring in life experiences which makes learning more inspirational.  The training also teaches about how people learn differently. "It is good to use all the tools in the toolbox so that you can touch a class. That is different from tutoring, but in a class it is important to keep an eye on your students on who is tuning out."
Just because someone can't speak your language doesn't mean they aren't brilliant. They know more than one language.  You will have someone who is an engineer or lawyer in their country. It is what you pay attention to and the respect you give them that is important.  When I teach my students, it is about getting the language under their belt, but it is also about sharing and being part of a community together.
What skills do you need to teach on Zoom?
"Patience, patience, patience, which is the word of the week each week!  The students were frazzled, trying to figure out the link.  Keep expectations down of what you expect.  When you are on Zoom, CALM DOWN! It is not going to be like face-to-face. Be creative and use the space you are in. For example, Can you find something in your house to share? or Who can describe Anna's room – what is interesting? Use your space. It may not be ideal, but you use what you have."
Last year, more than 120 passionate and dedicated volunteers like Judy volunteered over 13,000 hours supporting the tutoring, class, parent and workplace literacy programs. The Literacy Council is always seeking volunteers, including class facilitators and instructors! Learn more by registering for a 60-minute Volunteer Information Session offered every month, followed by a Tutor Training Workshop.  All sessions and workshops are currently conducted online.
Many thanks to Literacy Council volunteer Shira, who has been instrumental in helping us to interview our students and volunteers over the past year to share testimonials about their involvement with the Literacy Council.