Literacy Council Selected to 2023 Spur Local Class of Critical Local Nonprofits!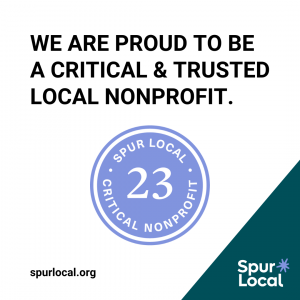 Small nonprofits like ours make a big difference for the communities who live here. We are thrilled to have Spur Local, formerly the Catalogue for Philanthropy, support our work!
After a rigorous review process, we are proud to announce the Literacy Council of Frederick County's selection to the 2023 Spur Local class of critical local nonprofits! Being part of the 2023 class, alongside our incredible peer nonprofits, shows both the critical impact and collective strength these organizations make as a movement for social good. The Literacy Council was first selected as "one of the best" local nonprofits by the Catalogue for Philanthropy in 2019.
Spur Local has announced the 134 nonprofits in the 2023 Class, the 21st class of nonprofit partners in the organization's history and the 1st class since rebranding as Spur Local.  Over the next four years, the 134 nonprofit organizations will receive free skill and network building resources from Spur Local, in addition to being highlighted on Spur Local's website, social media, blog, and at events. The 89 print nonprofit partners will also be featured in the annual print and digital Catalog, a Spur Local publication.
"Recognizing and amplifying the impact of organizations like the ones in our new class is at the very heart of Spur Local," said Matt Gayer, Executive Director of Spur Local. "These small nonprofits are creating local and hyperlocal change on a community-level. The significance of that for our region, and as a model for other regions, cannot be overstated."
This year the Literacy Council is celebrating its 60th year of service in Frederick County, guided by a new three-year strategic plan.  Our new vision, Literacy Lifts Lives, guides the organization's dynamic mission statement: To provide literacy pathways to essential literacy skills, recognizing that success for the adults and families we seek to serve rests on a collective community approach.
"We are honored to again achieve this distinction from Spur Local recognizing the vital work our volunteers do.  They help adults gain skills and achieve their goals through individual/small group tutoring, community classes, workplace literacy, and parent outreach programs in English language proficiency and everyday life skills. Children too benefit immensely from their parents' increases in skills and confidence," stated Laurie Fisher, Executive Director. "At present we have more than 160 volunteers, and we are always looking for more who would like to help make a real difference!"
"Lifting lives through literacy programs is made possible thanks to the financial support we receive from individuals, foundations, and businesses," emphasized Fisher.  "This recognition and resources from the Spur Local will help our organization raise awareness of the critical importance of literacy to the well-being of individuals, families, and the economic health of our county as a whole – and of how our supporters can make a real difference through investing in the gift of literacy. There are thousands of people in Frederick County who need this help, and our goal is to extend that help to more of them."
Spur Local believes in the power of small nonprofits to spark big change. And they believe that the Literacy Council will continue to further that positive change, working each day to lift up, strengthen, and enrich Frederick County.
Congratulations to our fellow nonprofits selected for this year's class!