Learner Spotlight: Book Club Explores "All You Can Ever Know"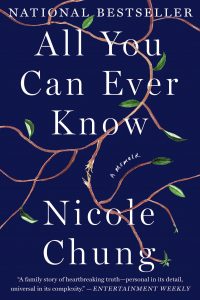 Written by Catherine Coundjeris, Book Club Facilitator and Writing Classes Instructor. This summer book club at the Literacy Council met for three sessions and had the special treat of reading, All You Can Ever Know by Nicole Chung. It was a page turning memoir of Chung's autobiographical experience in a cross-racial adoption. Chung, a Korean baby was adopted by a white couple who chose to live in an all-white community in northern Oregon. This had unforeseen repercussions for Chung. The book presented like a novel, depicts Chung's early life where she experienced racism in her elementary years, and her life as a newlywed, and later as a young mother, searching for her biological family.  She discovers that the story of adoption is complicated and multidimensional. We met on Zoom and the students engaged in lively discussions about the memoir.
The interest in this book was great and led to a discussion of Chung's other works.  She has also written another memoir A Living Remedy about her adopted parents' health and financial struggles.  A Y.A. anthology, When We Become Ours is the story of other adopted children and will be out in the fall.
Members of the Book Club included:  Y Rhee, Jamila T., Natta S., Jacqueline B., Vanessa V., Salomón S., Rosilene F., and Julio H.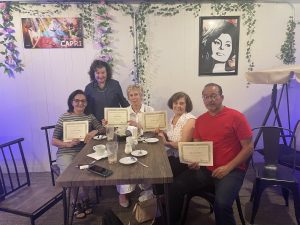 The students were very enthusiastic about reading Chung's book and participating in a book club during a Maryland summer.  Natta said, I'm not afraid to seem too enthusiastic and ecstatic, but I need to confess that summer in Maryland is beautiful and glorious. It shines and blooms endlessly and continuously all over the season. One magnificent flowering wave has been changing by another even more bright and beautiful. And one is being stunned and speechless watching this indescribable beauty can only exclaim: "O, my God, it is gorgeous!" What else can make summer holidays better? For me – a good book, which draws you to the new world, unknown and thrilled and you are drifting through the plot, forgetting about time and deeds. When you can talk of this book with other lovers of reading! You can talk, ask questions, share your opinion, listen the other points of view. I believe it is priceless. Thank you, great Maryland summer, thank you Book Club, thank you, those, who have this great idea to make this gorgeous summer even better!
Jacqueline was happy about the book selection and learned a lot from reading Chung's story:  Thank you, Catherine, for choosing Chung's powerful memoir "All You Can Ever Know" for our book club. It opened my mind to the struggle and the agony the adoptees go through to find their real identity.  Chung amazed me with her honesty and courage to find her birth family and identity, as well as to continue honoring and valuing her adoptive family.
Salomón was very positive about participating in a Book Club. He felt the support and structure of the club helped him to experience the book and join into the discussion of a book he never would have read on his own. He would love to join future book clubs and be exposed to new books. Reading the book and the group discussion helped me grow, and has also inspired and energized me. I believe, "All You Can Ever Know: A Memoir" has a powerful impact on how we find success in families matters.
The Book Club is a good way to meet people. Rosilene shared, This is my first time participating in a book club. I am amazed how it worked. The book selected for this Summer Book Club was very thought-provoking for me. I never thought about adoption even more than cross-racial adoption. I know adoptees, but no one ever talked about it. The things we knew were from gossip. The book club group itself is amazing with the opportunity for everyone to share. Reading with LCFC has been my way to meet new people both in real life, and in fiction when I am learning English.
Y Rhee was struck by the new perspective the book offered us, "All You Ever Can Know", written by Nicole Chung, is an eye opener for me because it is an area I don't think much about.  The book was an easy read, chapters are kept short, and yet she showed us what a warm and a loving person she turned out to be, though she was born into an undoubtedly unfortunate situation.  What if she was not adopted by the right people?  What then could have happened to her?  Her journey in life proved to be the best outcome; journeys can be like that sprouting a huge blossom where we all meet at the end.  Y Rhee also had this to say about the book club presentation:  You have surprised me again and again on the variety of subject matter in books you chose for us to read.  I especially appreciate your efforts to provide us with PowerPoints of comments and questions to review in each meeting.  
Jamila enjoyed Chung's style of writing:  I like Nicole Chung's memoir talking about her adoptive parents, and her birth parents. She always was loving, and belonging to her both parents, and her own family, her husband, and her daughter. I like her way of writing which made me turn the page to know more about her story.
We also met at Delizia Café the week afterwards where we enjoyed fellowship and continued our discussion of Nicole Chung's work. Our conversation ranged widely and all the students were very enthusiastic about gathering in person. Certificates of Participation were handed out at that gathering.
We have been holding the Book Club for several years now, and have read such books as The Distance Between Us: Memoir by Reyna Grande, Enrique's Journeys by Sonia Nazario, A Revolution is Not a Dinner Party by Ying Chang Compestine, The Kite Fighters by Linda Sue Parksand anthologies: Coming of Age in the 21st Century edited by Mary Frosch and Coming of Age Around the World also edited by Mary Frosch and Faith Adiele. 
We are open for suggestions for our next Book Club meeting, which will be in the December/January break.  Both tutors and students are welcome, but space is limited and is first come first serve. An announcement will be made in our upcoming class schedule for the Fall and Winter Sessions.