Stuff the Bus 2022 – June 13 through August 3
June 13, 2022 @ 9:00 am

-

August 3, 2022 @ 2:00 pm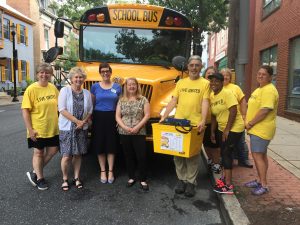 The Literacy Council is again participating as a collection site for the United Way's Stuff the Bus School Supply Drive.  Stuff the Bus is a way for the community to come together to help young people succeed in school and is a way for the Literacy Council to support family literacy. Help share this Flyer too!  Learn more by watching this video! https://www.youtube.com/watch?v=WIaT6C0ADMk
More than 1 in 3 households in Frederick County struggle to afford basic necessities (http://www.unitedwayfrederick.org/ALICE), so they find it very difficult to afford needed school supplies.  This drive helps ensure that all children have the supplies they need to do their homework, take tests, and complete projects. In 2021, more than 262,000 items were distributed to Frederick County children.  It is a simple but important way to help children succeed in school.
STUFF THE BUS VIRTUAL DRIVE:
This year the Literacy Council is also supporting online donations for school supplies through the Stuff the Bus virtual drive organized by the United Way of Frederick County which runs June 13 through July 22. The virtual drive allows for cash donations to purchase school supplies: https://app.mobilecause.com/vf/StuffTheBus22/team/LiteracyCouncil
Donations of any amount are most appreciated. Here are some examples of what different cash donations might purchase:
$15 buys pencils, markers, and crayons for one kindergarten student
$50 supports one elementary student with basic supplies
$150 provides a middle school student with all necessary supplies, including a backpack
$200 buys a high school student basic supplies, including a graphing calculator
$500 provides 10 pre-k students with all necessary supplies, including backpacks
STUFF THE BUS IN-PERSON DROP OFF:
You may drop off your donation of new items at the Literacy Council office Monday – Friday, 9 a.m. – 4 p.m., beginning Tuesday, July 5, through Wednesday, August 3.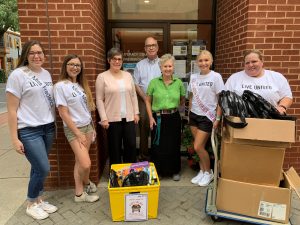 Please drop off items in the collection bin in the lobby of our 110 E. Patrick Street entrance to the library (the administrative entrance where our door is located.)  You can enter through our door or the front double doors on Patrick Street.  Those doors will be unlocked between 9:00 a.m. and 4:00 p.m.  Use this link to view the complete list of needed items.
Thank you for helping us Stuff the Bus and helping FCPS students start the school year with the supplies they need to succeed!
For more information about Stuff the Bus and how to donate, visit https://www.unitedwayfrederick.org/StuffTheBus
Related Events