Board of Directors Celebrate Friends of the Literacy Council
February 5, 2020: Delaplaine Arts Center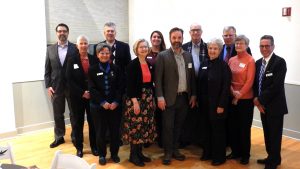 The Board of Directors hosted an evening reception on February 5th to celebrate the numerous Friends of the Literacy Council whose support enables the organization to provide essential literacy services for the community.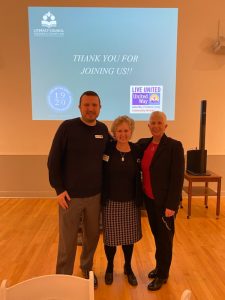 Richard Haney, Board President, welcomed the representatives from Frederick County and Frederick City leadership, community business, foundation and nonprofit partners attending the reception whose deep commitment makes the Frederick community strong.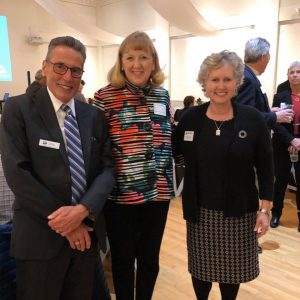 Our Programs
Laurie Fisher, Executive Director, shared program highlights as a "sneak preview" for the upcoming annual June Celebration of Achievements. She asked the audience to consider these questions while sharing a "snapshot" of current programs: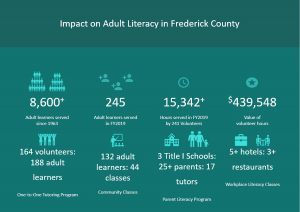 How does literacy impact our community?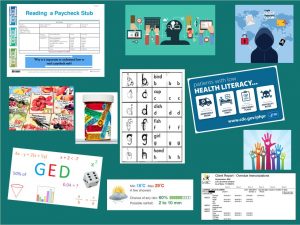 What knowledge and skills do adults need to apply to real life situations in order to function as an employee, parent and community member?
This past year, 241 volunteers contributed 15,342 hours, dedicating their time and expertise to the following programs:
One-on-One Tutoring: 164 volunteers: 188 adult learners
Tutors reported multiple life skills achievements for their students: got a job or a better job, improved job or employability skills, received GED or other secondary school credential, entered other education and/or training, improved scores on standardized text, advanced level in curriculum series, obtained citizenship, earned driver's license, registered to vote/voted for the first time, increased involvement in community activities, increased involvement in children's educational activities, attained consumer skills or healthy/wellness lifestyles, or other personal goals.
Community Classes: 132 adult learners: 44 classes (students attend multiple sessions)
Classes included beginning literacy, conversation, pronunciation, writing and U.S. Civics during winter, spring, summer and fall sessions  taught by volunteer instructors!
New!! Parent Literacy Program: 17 tutors in 3 Title I Schools: 23 parents (2019-2020 academic year)
The Literacy Council is working directly with the Judy Center, and Frederick County Public School family liaison coordinators at Hillcrest, Lincoln and Waverley Elementary Schools to provide tutoring support  and a conversation class for mothers at Waverley.  In addition, Literacy Council representatives are supporting parents at Family Literacy events, back to school nights, parent conferences, and parent/child playgroup reading events.  Parents referred by YMCA's Head Start program are also receiving assistance.
New!! Workplace Literacy Classes: 4 weekly classes for hospitality & restaurant workers from 5 hotels, 3 restaurants (FY2019-2020)
Since Fall 2018, the Literacy Council has been conducting classes for hospitality workers from Econo Lodge Frederick.  In September a new class began for restaurant workers from downtown Frederick restaurants – Firestone's, Sumittra Thai Cuisine and Lazy Fish – conducted by two volunteer instructors.  The employees are enthusiastic and are attending consistently.
January launched a new collaboration with Plamondon Hospitality Partners to conduct two weekly classes for hospitality associates from four Marriott hotels.  We are working with a terrific team, including Leah Knecht, Talent Manager (who was in attendance at the reception) and Michael Henningsen, Executive Vice President of Operations.
Holly Bohman and Rosibel Cano, Parent Literacy Program volunteers, as well as Kim Brown, Workplace Literacy Program Coordinator, and Jennifer Szabo, Program Manager, were recognized for their work developing and supporting these new initiatives.
 Our Students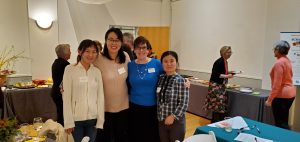 Attendees also had the opportunity to meet some of the Literacy Council's amazing students both in person, and by sharing the inspiring and heartwarming stories from 30 students featured in the second edition of Reflections – Voices of English Learners.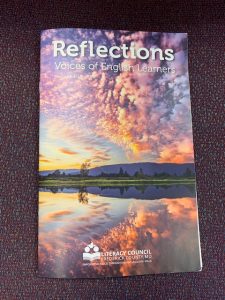 Catherine Coundjeris and Julie Heifetz, volunteer co-editors of Reflections, and Betsy Maymon, volunteer graphic designer, were recognized along with sponsors Jane and John Ketchem, and Curious Iguana Bookstore.
A special video greeting from Literacy Council students shared reflections on their involvement with the organization and gave their thanks for helping to make these programs possible.
The Campaign for Literacy Giving Societies
Rich acknowledged the Literacy Council's supporters who were recognized in the printed program as members of the Literacy Council's Giving Societies named in honor of three remarkable women. Dolly Engle and Kay Mackley founded the Literacy Council of Frederick County in 1963, and Caroline Gaver, our long-time President, now Board Member-Emeritus. The Board of Directors recently established The Campaign for Literacy Giving Societies  to recognize the generosity of individuals, businesses, foundations and community organizations whose support enables us to fulfill our mission.
Friends of the Literacy Council were also recognized for their lifetime giving in the Leadership and Recognition Giving Societies and those who have designated the Literacy Council in their estates through the Legacy Giving Society.    THANK YOU for your support – it means so much to all of us, and our community! Caroline Gaver was applauded by the audience and Board of Directors in recognition of her 45 years as a Literacy Council volunteer!
Learn more about ways to support the Literacy Council's mission and programs. Please contact Laurie Fisher, Executive Director, at (301) 600-2066 or lauriefisher@frederickliteracy.org for more information.
Many thanks to The ARC of Frederick County for preparing delicious appetizers for the evening,
and Zacht Studios for contributing the video editing services.